LAKELANDS LODGE
29 LAKELANDS RD, PARUA BAY WHANGAREI DISTRICT
SIZE:
Land approx 44.85ha (in four titles), house (approx) 372sq m, studio 157sq m.
PRICE INDICATION:
Marketed with price of $2.5 million (including GST).
SCHOOL ZONES:
Parua Bay School, Whangarei Boys' High School, Whangarei Girls' High School.
CONTACT:
Grant Alexander, Barfoot & Thompson Whangarei, ph (09) 438 3079 or 021 286 8600.
FEATURES:
Large property with architecturally designed four-bedroom home plus separate studio/shed, trio of picturesque lakes with wetlands, native bush with walking tracks and 27 fenced paddocks. Potential to be a wedding venue, retreat, B&B and more.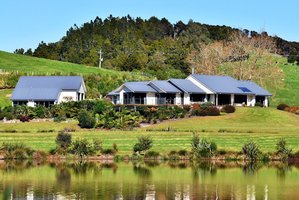 Lois Tapp and her late husband Murray bought land in two titles in a quiet Parua Bay valley just over 10 years ago, soon supplementing them with two neighbouring titles.
The couple channelled their lifelong interest in farming and conservation into this serene and versatile property with small livestock farm, trio of freshwater lakes, wetlands and bush.
The picturesque spread includes an architecturally designed home and separate studio-shed. It may appeal to families or retiring farmers or offer potential as a wedding venue, retreat or B&B farm and ecological stay.
Lois says: "We have always believed that farming, land development, and conservation can and should be complementary, with long-term benefits for the land owner and the environment."
They've established a habitat for a wide variety of wildlife species by connecting coastal, estuarine, harbour, bush and farmland environs. Lois says all the hard work has been done and there's little day-to-day maintenance required.
The once heavily grazed land is teeming with birds and other wildlife around the striking lakes and the bush the couple helped regenerate.
The main overflow from the lakes is also a fish pass. "On a full tide, mullet and small native fish can transfer from the stream up to the lower lake. The mullet frequently leap out of the water and look fantastic glistening in the sun," says Lois.
The serene privacy of the valley belies its handiness to Whangarei City and Parua Bay village, with fishing and beaches nearby. The home was completed in late 2005 and combines painted, plastered-over brick and Linea weatherboards. Visitors arriving down the 500m-long driveway don't fully comprehend the impact of the home's setting until they're inside.
The home is on a peninsula, admiring the lakes on three sides. "The lakes are beautiful. They can be absolutely glassy, mirroring the sky, or be misty or have waves during wild weather," says Lois.
Idyllic times here include watching seabirds washing salt out of their feathers in the lakes or hitting golf-balls at lake islands from the large front lawn.
Separated from the studio-shed building by an entry courtyard, the main home's layout mimics a capital "T". Central to the "upper bar" is an open-plan kitchen-family-dining room with enclosed wood-burner. It opens out to the deck, as many of the rooms do.
On one side, the bedroom wing offers a master with walk-in-wardrobe and another bedroom, both with en suite access to a large, divisible bathroom. On the other side, a second lounge can accompany the open-plan living or be dedicated as part of the guest wing. It's followed by two more bedrooms, a bathroom and separate toilet.
Down the length of the T are an office, laundry-storage room and internal-access double garage with gardener's toilet. The privately set studio with kitchenette, bathroom and barbecue area adjoins a high-stud shed/workshop.
The Tapps established Lakelands Lodge for their own enjoyment but came to appreciate its future income potential. Glowing feedback from visitors and by-permission walkers suggests there's accommodation potential. They hosted a couple of weddings, receiving many more requests to offer it as a wedding venue.
The couple fattened cattle and then grazed dairy replacements. With 27 fenced paddocks, approximately half the land is grazing, one-quarter native bush with walking tracks and one-quarter lakes and wetlands. Lois abandoned the count after 25,000 plants were germinated and nurtured in their nursery to help regenerate the bush.
The couple always worked together brilliantly as a team until Murray passed away three years ago. Lois wants to move on before she gets too much older, anticipating someone else will enjoy the property as much as she and Murray did.