The size of the site presents many options for a new owner and is a huge redevelopment opportunity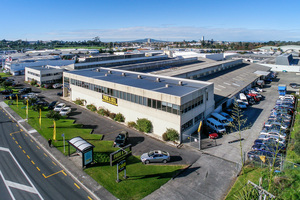 A big North Shore industrial property is being marketed for sale as "the largest 'brownfield' development opportunity in the popular Wairau Valley".
The 2.1 hectare property at 219-225 Archers Rd and 17A Porana Rd is listed in Colliers International's third New Zealand Portfolio magazine for 2013.
"This large property provides a substantial redevelopment opportunity," says Colliers agent Jason Seymour who is marketing it with colleague Shoneet Chand for sale by deadline private treaty closing at 4pm on Thursday, July 25.
Seymour says Bunnings Ltd, the current owner, purchased the property in 2007 and acquired consent to build a bulk retail store on the site, before purchasing an alternative property nearby and surrendering that consent in favour of the new site.
"Bunnings' decision to construct its new store on another site has opened up an excellent chance for a developer or owner-occupier to buy a large property in a sought after and growing location," he says.
Chand says the size of the site presents many possible options for a new owner. "The current buildings could be renovated and used by a single large office or industrial business or various smaller owner occupiers or tenants.
"A developer could demolish the existing structures and build a modern industrial or showroom facility, provided the relevant consents are applied for and granted, strategically taking advantage of the demand trends in this rapidly evolving area," he says. "The large expanse of wood floors and ceiling profile would provide the opportunity for a big open plan office on a single floor plate."
Chand says various short-term tenants pay more than $400,000 in rental income, which is substantially below the potential market rental for the existing buildings.
He says the main buildings were previously occupied by a furniture manufacturer.
The property is spread across three separate freehold titles with the industrial buildings comprising 13,348 sq m in net lettable area.
The main building, an older industrial structure, contains 10,548sq m of floor area split across manufacturing space, offices, showroom and amenity areas over two levels.
A smaller building next door separated from the main building by a yard and loading area, and previously used as a distribution facility, encompasses 2074 sq m of floor area including a high stud warehouse, canopies, offices and amenities.
A central loading area is accessed directly off Archers Rd with additional loading to the south western side of the main building.
Seymour says dual road access to busy roads and a large 120 metre road frontage give excellent access and visual exposure for the property.
"It is very well located in the heart of the Wairau Valley, an excellent position for businesses to benefit from the continued intensification and evolution of this high growth area."
Chand says ongoing development in the area has seen a number of well-known retail and commercial occupiers move in in recent years.
"Pak 'n Save and Bunnings Warehouse have opened in the vicinity of this property within the past few years, complemented by a number of new retail outlets.
"The large format retail growth in the Wairau Valley means few standalone properties are for sale with the area being very tightly held. They should be very easy to let with commercial occupiers queuing up to have a presence in the locality."
Chand says the associated industrial development occurring throughout the Wairau Valley, combined with the nearby large residential catchments of Glenfield and Forest Hill, indicate the future is promising for the popular retail and commercial precinct.
Seymour says the attractiveness of the area is enhanced by its central location on Auckland's North Shore, just a 10-15 minute drive to the Auckland CBD and being close to motorway on and off ramps.
Industrial property vacancy data from Colliers International Research shows that vacancy in the Wairau Valley continues to be very low, falling to just 1.7 per cent in February 2013 - down from 2.4 per cent in August 2012.. This is significantly lower than the overall industrial vacancy rate in greater Auckland, which was 4 per cent in February 2013 and 5.1 per cent in August 2012.