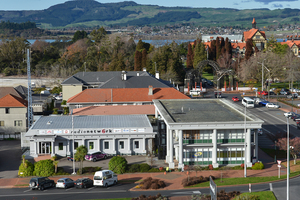 Two high profile Rotorua buildings have been placed on the market for sale including one of the city's largest commercial buildings incorporating retail shops, office suites and a residential apartment.
The prominent 10-storey, inner city building, located at 1131-1145 Arawa Street, is leased to a number of tenants including Government departments IRD, Internal Affairs and the Ministry of Business, Innovation and Employment.
The building is being marketed by Nigel McNeill and John Algie of Bayleys Auckland and Mark Rendell of Bayleys Rotorua and is being sold freehold under two titles of 913sq m and 736sq m with tenders closing on July 25. It will not be sold prior to this date.
The second significant Rotorua building being sold by Bayleys is the commercial building at 1138-1142 Fenton Street.
The Arawa Street building is within Rotorua's office precinct with the ground floor occupied by a variety of service, commercial and retailing outlets largely focused on the needs of office workers.
McNeill says an engineer's report has assessed the building as having a satisfactory seismic rating of 79 per cent, to new building standards.
"It represents an investment with real potential for entrepreneurs, developers and/or owner-occupiers with one option being a conversion into residential apartments or a hotel," he says.
"The building has a current cash flow from a variety of tenants and lease terms. It also has excellent floor plate designs, which could be easily configured to suit any tenant requirements," McNeill says.
Total gross annual rent generated by the building is $831,821 plus GST with a net rent of $549,695 per annum and a weighted average lease term of 1.52 years. The building has a rating valuation of $7,010,000, made up of land value, $650,000 and improvements value, $6,360,000. The gross rentable area, excluding car parks, is 6894sq m, with 5511sq m of this occupied.
Completed in 1988, the multi-storey building incorporates a ground floor and nine tower floors, 13 off-street car parks at ground level and ramped access to another 35 car parks on level one.
The nine tower levels are serviced by three 900kg or 13-person capacity lifts.
Rendell says key features inside the building are a high ceiling entrance, marble wall and floor, and decorative marble columns, viewable from the street by the public.
"The building has been designed to obtain maximum space efficiency by the use of a central core of essential services - lifts, toilets, service ducts, boiler vents, and electrical and plumbing systems," he said.
In April this year level eight was partially converted into a residential apartment for the owner.
The other well-known freehold building at 1142 Fenton St houses one tenant and includes vacant space, providing scope for developing its potential and adding value.
It is to be auctioned on August 15.
Rendell says the position and attributes of the building which has a floor area of 1120sq m offers good investment potential to a new owner.
"The corner location on a main, central street provides high exposure for substantial office or retail operation of 1120sqm over two levels. It is across the road from the Rotorua Convention Centre, Rotorua District Council and Tourism Rotorua and comes with 10 onsite car parks for staff and customers."
Rendell says the area is a gateway to the Rotorua Government Gardens and is on the fringe central business district of the city.
"It has a high volume of foot and vehicle traffic along with a great road profile," he says.
The main existing tenant, Radio Network Ltd, occupies 32 per cent of the building, leaving 700sq m vacant over two levels, providing a new premises opportunity for a potential owner occupier.
www.bayleys.co.nz/4107784
www.bayleys.co.nz/2836141