Eleven properties fetched nearly $22 million in one of the biggest-value auctions by Bayleys in recent times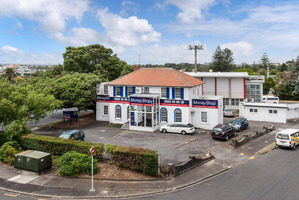 Two big retail complexes in prime suburban locations, which were each purchased by investors for over $6 million, were among 11 properties sold for a total of just under $22 million through Bayleys' latest Total Property auction in Auckland.
A block of six shops and an adjoining property in St Heliers Village sold in two lots for a total of $7.3 million and three neighbouring properties in the heart of Kingsland's commercial centre sold as one lot for $6,450,000.
John Church, Bayleys' commercial and industrial general manager, says it was one of the strongest auctions, value-wise, experienced by the agency for a number of years and reflected a noticeable increase in market demand for "middle value" properties.
"The strength of the market was seen in the sale of two properties for more than $5 million.
"Normally properties of this size would go to tender but they attracted multiple bids.
"Also the low yields they sold at shows that auctions do work for quality larger properties, particularly now the market is on the rise again and investors are more confident about acquiring higher value assets."
The larger of the two St Heliers offerings, 567sq m of shops on a 910sq m site at 13-21A St Heliers Bay Rd, sold for $6,020,000 at a 4.9 per cent yield on its net annual rental income of $295,493.
The six shops are in two character single-level buildings with more than 25 metres of frontage on to St Heliers Bay Rd.
Bidding started at $4 million and a rapid-fire series of bids took it through to close to $6 million, where it was passed in. It was sold shortly after for $6,020,000 through Cameron Melhuish and James Chan.
"This was a phenomenal yield for a property of this size but reflects the underlying value of the land and its location close to the waterfront and in the heart of the prosperous St Heliers Bay commercial area," says Melhuish.
Melhuish and Chan also sold an adjoining 303sq m block of land with a 125sq m, early 20th century villa at 10 Maheke St, which was auctioned separately, for $1,280,000 at a 2.3 per cent yield. The property is leased at $29,125 a year to a long-standing accountancy business that has been in occupation since 1988. An area of under-utilised land at the rear of this site connects with the back boundary of the six shops at 13-21A St Heliers Bay Rd.
The shops were put up for sale by descendants of Albert Scotting, who established a butcher's shop on the property in 1927, and it was the first time they had been offered for sale for 87 years. Chan says the two offerings were bought by the one purchaser as a long-term investment hold.
The highest under-the-hammer price at the auction was achieved for three adjoining lots of land and buildings at 492-500 New North Rd, Kingsland, encompassing a total site area of 1558sq m.
These were put up for sale by hospitality group Pack & Company. It acquired the site in 2006 and prior to the Rugby World Cup redeveloped two of the buildings into the Neighbourhood Mac's Brew Bar and the Shaky Isles cafe.
Bidding began at $5.1 million and several competing parties took it through to $6.3 million in $100,000 and then $50,000 increases before it was sold to the under bidder who missed out on the St Heliers Bay Rd properties for $6,450,000 at a 6.8 per cent yield. Pack & Company associated businesses have 10-year leases on the Neighbourhood Bar and the cafe, with annual rent reviews to the Consumer Price Index plus 1 per cent. A third extensively refurbished building is occupied by two other tenants and has a large billboard overlooking Eden Park.
Scott Kirk, who sold the site with Bayleys Auckland's colleague James Were, says Pack & Company had done a superb job redeveloping and refurbishing the buildings to a high standard. "Pack is widely recognised as one of the best operators in the food and beverage business and the long leasebacks they have taken coupled with the built-in rental growth and strength of the location made it an attractive investment proposition."
Another substantial sale was concluded prior to the auction at 81 Springs Rd, East Tamaki, a high-profile 3397sq m industrial building on a 5220sq m site that sold for $3.8 million at an 8.5 per cent yield through Shane Snijder of Bayleys Counties and John Bolton of Bayleys Manukau. The property is leased to Swages Engineering, which specialises in manufacturing high-tech componentry, for a term of six years until August 2016, with two three-year rights of renewal and two-yearly rent reviews, with the next due in September.
At the smaller end of the market, two ground floor shops, with one basement carpark each in a new two-level commercial and residential building at 158 Jervois Rd on the corner with John St in Herne Bay, were sold under the hammer by Chan and Dave Bernard of Bayleys Auckland.
A 61sq m unit, with a six-year lease to Meat on Jervois, a satellite store of the larger Meat King Albany Butchery (NZ), sold for $718,000 at a 6.2 per cent yield. It has two-yearly reviews based on CPI plus 1 per cent. A 56sq m outlet occupied by Janken, a Japanese cafe, sold for $608,000 at a 6.4 per cent yield on a three-year lease with two three-year rights of renewal.
Other properties to sell included:
•2 Piki Thompson Way, Otahuhu: A landmark Otahuhu building, that was the childhood home of former Prime Minister David Lange and which sits on a high-profile 963sq m site, was sold for $600,000 at a 7.8 per cent yield by Rachael Pittaway of Bayleys Auckland and Tony Chaudhary of Bayleys Manukau. It is leased to Moneyshop Group for six years from March 2010 with a three-year right of renewal.
•Unit C at 3 Ryan Place, Manukau: A 749sq m mainly warehousing industrial building with small kitchen and office, plus secure yard was sold vacant for $690,000 by James Valintine of Bayleys Auckland and Simon Andrews of Bayleys Manukau.
•Unit E2 at 4 Orbit Drive, Albany: A road front ground floor retail unit with an established Japanese restaurant as tenant with five years remaining on its current lease term sold for $640,000 at an 8.1 per cent yield through Michael Block and Damian Stephen of Bayleys North Shore Commercial.
•Unit 9 at 326 Sunset Rd, Mairangi Bay: A 140 sq m vacant unit, with two car parks in an 18 unit North Shore medical centre, was sold with vacant possession for $420,000 by Christina Heaven and Ashton Geissler of Bayleys North Shore Commercial.