1081 LEIGH RD, MATAKANA
SIZE:
Land 3.74ha, house 193sq m.
PRICE INDICATION:
RV $970,000. Auction July 24.
SCHOOL ZONES:
Matakana School, Mahurangi College.
CONTACT:
John Barnett, Bayleys, ph (09) 945 2264 or 021 790 393.
FEATURES:
A 13-year-old north-facing, architect- designed three-bedroom home on a 3.74ha lifestyle property in Matakana, 70km north of Auckland's CBD. The property has direct access to the Omaha River, a tree-fringed pond and a three-bay implement shed, as well as a double garage.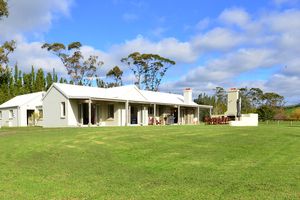 Kerry Coleman is a country boy at heart, with a hankering for space and peace. His wife, Margaret, likes the comforts of civilisation.
So when they were searching for a spot for a new holiday home they might one day retire to, they settled on Matakana as the perfect compromise. Only 50 minutes from their regular home on the North Shore, it promised a quick escape on a Friday night yet a refreshing change from suburbia. Kerry, a property valuer, had worked extensively in the Matakana area in the 1970s and had long pinpointed it as a good retirement option, as well as a sound investment.
They found a large, overgrown paddock that fell gently down to the Omaha River, set off the road to Leigh and Goat Island, and a six-minute drive from the Omaha surf beach. Bordered by farmland and the river, it had an outlook of mountains, greenery, river and a big sky.
"The clarity of the sky out there at night is incredible," says Kerry. "It's incredibly peaceful - there's a lot of native bush around, and birds."
Matakana village, a few minutes away by car, had plenty to keep Margaret distracted, and there were also ample diversions for their children and grandchildren - loads of room on the property for a game of footy, a river and pond to potter around in, and a choice of family and surf beaches within striking distance.
A large, near-level site, meant Kerry and Margaret didn't need to compromise on the orientation. They worked with now-retired architect Norm Kirkcaldy to design a single-storey, north-facing three-bedroom home that soaks up sun and opens out on to terraces and a flat lawn.
In the years that followed, Kerry and Margaret planted more than 200 native and exotic trees, replaced half the lawn and added a large concrete patio, accessible through bifold doors from the open-plan living area. With an outdoor wood fire, a shady umbrella and lighting, it's a wonderful spot day or night, summer or winter, says Kerry.
"It's another living area. At night we light the fire and have long enjoyable evenings out there."
Kerry was keen for the home to sit comfortably in its surroundings, so they incorporated natural touches into the design including macrocarpa ceilings and Waipu stone features inside and out.
"I wanted it to look like a country house. I didn't want it to be a modern place that didn't fit into the environment - I wanted it to reflect that environment."
In the 14 years since they bought the property, the vibe of the district has tilted in Margaret's favour, as the former sleepy hollow of Matakana transformed into a buzzing village in the weekends, alive with cafes, restaurants, boutique shops and a cinema, and farmers' market.
But though the area has become increasingly popular as both a commuter suburb and weekend getaway for Aucklanders, it's maintained enough of a laid-back rural feel to keep Kerry happy.
Their grandchildren are now getting older and busier - and two of them live in Australia - so Kerry and Margaret have been spending more weekends in Auckland or Sydney rather than Matakana.
Kerry says the house has served them well, and they'll be sad to leave. "It's been a refuge for us, and I need that. I work pretty hard during the week so it's been outstanding to be able to go there. It's a wonderful place."