And the motorway is accessible within minutes ...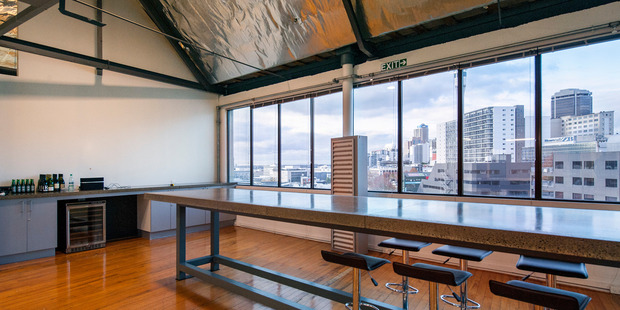 A fully tenanted and renovated office building at 23 Union St, just off the motorway on the edge of the Auckland CBD, is being featured for sale in Colliers International's latest New Zealand Portfolio magazine.
The standalone 1960s building has been extensively refurbished to create industrial-style, character, open-plan office space and comes with 57 car parks.
"This property has an extensive visual profile right next to the motorway in a popular city fringe location," says Roger Seavill of Colliers International who, with colleague Peter Herdson, is marketing it for sale by deadline private treaty with offers closing at 4pm on Wednesday, July 24.
Seavill says the 2656sq m building on a 1897sq m freehold site constitutes a strategic land holding. "There is constant demand from occupiers for quality office space close to the city, making this a valuable piece of real estate," he says.
The property is fully occupied by various office tenants who lease open-plan spaces in the two-level building. Total net rental income amounts to $612,370 a year from various lease terms that all have rights of renewal providing possible final expiries between April 2015 and August 2026.
Seavill says the refurbished interiors are "contemporary" and make extensive use of the building's attractive internal features such as polished wood floors, exposed steel ceiling beams and expansive windows.
The property also features driveways on both sides of the building, a loading dock, a large passenger and service lift and high levels of security throughout the building.
Herdson says 45 of the car parks are undercover and gated, with secure remote access.
"The building's high standard of amenities and features, including air conditioning, excellent natural light and generous car parking, provide a desirable environment for a wide range of businesses and should help to ensure the office space will be easily leased if vacancies occur in the future."
Flexible zoning gives the property future development potential.
"The site rules permit developments of up to a potential gross floor area of 6600sq m and a height limit of up to 35m. We expect to receive interest from investors who may look at adding further value to the property in the longer term and from buy-and-hold purchasers."
Seavill says the site occupies a ridge position with expansive views over surrounding suburbs, the CBD and harbour, as well as benefiting from a wide street frontage and an excellent profile with the major arterial roads of Nelson St and Hobson St adjacent to the property carrying high traffic volumes into and out of the Auckland CBD.
"The building benefits from its location close to shops, entertainment and transport that has attracted tenants and which are a strong contributing factor to it being fully leased," he says.
"The property is located just off Spaghetti Junction and, within seconds, employers or employees can be on the motorway. This ready access to suburban centres and regional destinations means this is an unbeatable location from which tenants can serve their client base," Seavill says.
Ponsonby's cafes and retail outlets are also within easy reach of the building with the central city's main retail precinct just 800m away.