Renovation show co-host says this year's homes will allow contestants to get creative.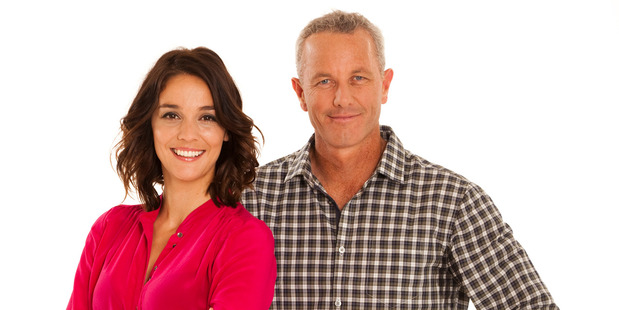 Last year's hosts of TV3's successful The Block NZ are returning this year for the second series, saying the four houses featured have even more potential than last year's houses.
Mark Richardson and Shannon Ryan will host the renovation reality show, produced by Eyeworks Television, and Richardson says the winning team will get "a big pay day".
Ryan said this year's couples would be more creative and competitive than last year's when the series culminated in a two-hour live auction finale watched by 1,099,400 viewers.
Forklift pallets have been laid end-to-end to keep workers and contestants out of the mud created by earthworks on the North Shore site of this year's series. The wooden walkway has been laid between three Portacoms, which form the site office, and the new Bunnings Warehouse stage where the contestants will stand to compete against each other.
The show will feature four pairs vying to renovate the four run-down houses room by room, week by week.
The set this year is around 257 Lake Rd, Belmont, on the corner of Eversleigh Rd opposite Takapuna Grammar School.
That site is now swarming with workers and production crew, turning away sightseers. Much of the surrounding fencing is in solid timber to block peeks from Lake Rd where high double gates have risen. But the Eversleigh Rd side is open, fenced in wire mesh on the shingled pavement.
The entire set is dug up as drainage is laid, a new garage and internal stairwell are created under one of the houses and land is contoured.
Last month, a villa and a bungalow were trucked into place and one tradesman said this week both houses came from Kumeu.
In a reversal of most development, the creation of a new mini-heritage precinct appears to be under way: two bungalows and one villa now stand beside each other while the fourth house, a 1940s brick veneer and tile building, will take on an older appearance because its roof tiles have been stripped and most of the brick is gone from the exterior walls.
TV3 said all the contestants had been picked.
All go
Site of NZ's most high-profile, secretive house renovations
House one:
* Relocated villa from Kumeu, fronting Eversleigh Rd, being extended.
* Huge earthworks out front, laying drainage and services.
House two:
* Biggest, original bungalow, 257 Lake Rd, new underground double garage.
* Surrounding foliage stripped, site of massive excavation on north side.
House three:
* Relocated bungalow from Kumeu, behind house four, hidden from street.
* Getting a new level added.
House four:
* Fronting Lake Rd, roof tiles stripped, exterior brick wall veneer going.
* New roof line established, framing up for extra level.