39 MANAWA RD, REMUERA
SIZE:
Land 682sq m, house approx 224sq m.
PRICE INDICATION:
Mid to high $1 millions. Auction July 3.
INSPECT:
Sat/Sun 1-1.30pm.
SCHOOL ZONES:
Victoria Ave School, Remuera Intermediate, Auckland Grammar, Epsom Girls' Grammar.
CONTACT:
Stanley Armon, Barfoot & Thompson, ph 021 723 177 or 215 4399.
FEATURES:
This is a double Grammar-zoned historic home close to Newmarket and the Remuera shops, with flexible living spaces and internal garaging.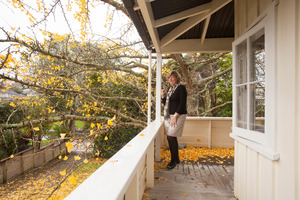 Suzanne Barber says living for much of her childhood in an historic home in Remuera has likely influenced her preference for traditional architectural styles. The co-owner of Newmarket's interior design store Allium Interiors certainly enjoys the same understated, elegant aesthetic typical of many older Remuera homes.
Which is probably why this Manawa Rd home appealed instantly to Suzanne when she and partner Clive Imrie came to an open home here six years ago. Clive, a Surrey-born Englishman who immigrated to New Zealand in 1960, is also a fan of older, traditional houses, which he feels are designed to a more human scale than many modern homes, which he finds soulless.
The couple had been living in an apartment in nearby Victoria Ave and had no intention of moving, but they were taken by the graceful elegance of this three-level house, which Suzanne says has "an excellent feel and great indoor-outdoor flow".
Built in the 1860s, the house was originally only a few metres from Auckland's shoreline before land north of Manawa Rd was reclaimed.
Today, that land includes picturesque Martyn Fields Reserve, which is directly across the road from the couple's property and leads to the excellent walkways that have been developed around Hobson Bay and the Orakei Basin.
Previous owners employed architect Terence Hitchcock to design a sympathetic extension of the cottage that took into account its key features, including pitched ceilings and pretty panelled windows.
Suzanne and Clive continued in the same vein, adding a large, designer kitchen with a high ceiling, which steps down to a new living room. These two spaces now form the heart of this tastefully decorated house.
Skylights, large windows and French doors allow light to flood into these areas, which are restful and welcoming.
The main living room has a gas fireplace and opens on to a wide, sunny deck. This outdoor area is great for al fresco dining, and stairs link it to the garden, laundry and a double, internal-access garage on the lower level of the house.
A second, small lounge accessed from the street level doubles as an entrance foyer and TV room. Also on this level are a guest bedroom and the main bedroom, with an L-shaped deck that overlooks a beautiful mature ginkgo tree in the garden and has views to the neighbourhood beyond. It also conveniently connects to the second lounge.
"One of the good things about this house is there are plenty of different spaces for people to do their own thing," says Suzanne, whose young grandchildren love coming to play in the house.
As well as cosmetic changes including carpeting and painting, Suzanne and Clive have converted a third bedroom on the home's mid level, splitting it into a generous walk-in wardrobe that services the main bedroom and a modern yet classically inspired bathroom.
The walk-in wardrobe leads through to a large en suite, which they have modernised along the same lines as the other bathroom.
On the third level are two adjoining bedrooms - one in use as a study.
The garden includes a sheltered courtyard paved with red bricks, which opens off the kitchen, and a cute garden shed that echoes the style of the house.
After several years in Remuera, Suzanne and Clive are now ready for a change and are considering a more rural lifestyle.