11 O'NEILLS AVE, TAKAPUNA
SIZE:
Land 1096sq m, house 220sq m.
PRICE INDICATION:
Buyers above $4 million are invited to view. Tenders close July 17 at 4pm (unless sold by private treaty).
INSPECT:
Phone agent for viewing times.
SCHOOL ZONES:
Takapuna Primary, Takapuna Grammar, Westlake Boys' and Girls' High Schools.
CONTACT:
Andrew Dorreen, Precision Realty, ph 021 747 334.
FEATURES:
Richard Priest-designed home with large heated pool and al fresco dining.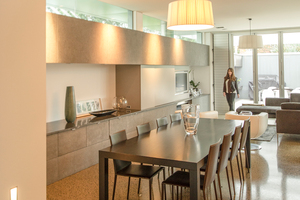 Paul and Rachel Tweedie engaged architect Richard Priest because they liked his ideas and his houses they'd seen in magazines. "He's contemporary and simple," says Rachel, "with great attention to detail."
The timing was right for Paul to replace the small house on Takapuna's avenues that he'd owned for a few years. Following their marriage in 2003, the couple needed room for their blended family of five children (then all school-age).
"We gave Richard carte blanche and both liked his first concept," says Rachel.
A series of masonry and plaster volumes define the house zones, trimmed with sculptural brushed aluminium overhangs on the ground floor. "The different wings work so well for all of us," says Rachel.
Separate zones for family living, adults and children function well. But the family's favourite zone is the outdoor living area round the 14m heated pool.
"We were in and out of here all the time as kids," recalls Rachel's daughter Narissa, "although we'd head to the beach as we got older."
An outdoor toilet and monsoon shower form one wall of the limestone-paved sheltered patio. Heavy steel beams and a blazing fire define an outdoor room, reached by over-size folding doors from the living areas. "Our friends can sit out here by the fire all year round," she says.
Rachel and Paul's friends are more likely to cosy up to the inside fireplace with its big-screen TV above. Textured stone creates two strong horizontal lines that flow through the windows to become the outdoor cooking area and the fireplace. "We love Richard's use of materials; they won't date," says Rachel, pointing out the combed basalt carefully crafted into storage drawers and lighting bays.
The couple also like Richard's thoughtful touches such as the entry's floor-level windows revealing the reflecting pond. Polished concrete floors in the entrance and living area give way to dark-stained oak, and the glazed gallery to the bedrooms displays Richard's sculptural aluminium curves over the pond. The gallery shelters a lush courtyard on the other side. "Paul and I planted all the trees and palms in 2004," says Rachel, "so they're looking good now."
A keen cook, Rachel also appreciates Richard's planning for the polished white kitchen. "We wanted something neutral," she says, "and the soft grey splashback is a bit like the sea." A butler's pantry hides any mess behind sliding doors, and a massive island bench with a polished stone counter overlooks the pool and courtyard.
Upstairs, Paul and Rachel have their own retreat overlooking Takapuna's tree-tops.
The same polished stone features in the luxury master bathroom, open to the bedroom through sliding frosted-glass doors. "It's romantic having the tub in the bedroom," says Rachel, "and the lovely silk curtains make it so cosy in the winter." She's also fond of the walls of closets and separate shoe closet. Paul uses the small adjoining room for an office, although it could become a nursery.
Another bedroom and en suite share the upstairs level, above the three-car garage. Downstairs, a fully wired media room anchors the children's wing. Three double bedrooms and another living or bedroom have plenty of storage for growing families. More hints of the sea appear in the blue glass mosaic tiles in the family bathroom, although the guest powder room features more luxurious stone and mirror.
"Being so close to the beach is priceless," says Rachel, "and it's easy to pop down the road or over to Ponsonby for a night out." As their big family starts to disperse, she and Paul are keen to design another house, although it won't be too far from the beach either.