Apartments with plans all ready to go is just one option for Otahuhu property close to motorway and shops.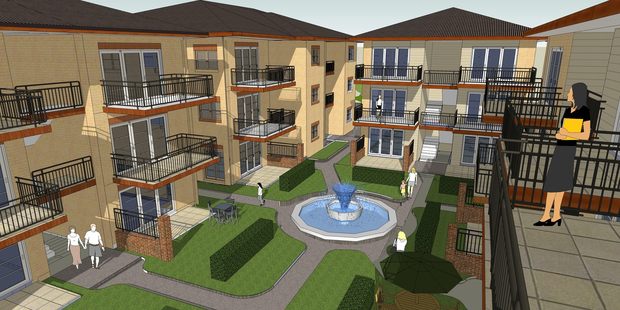 A mixed use site of over 4000sq m with consent already in place to build an apartment complex just two blocks from the main Otahuhu shopping strip is being marketed for sale by Ian Crawford of Barfoot & Thompson Commercial.
The property is in four freehold site titles totalling 4083sq m at 39-45 Atkinson Ave which runs between Mt Wellington Highway and Great South Rd. It has holding income of $88,000 per annum from four separate residential dwellings.
"These are a mixture of three and four bedroom villas that are rented out under standard residential tenancy agreements and which offer a good holding income while final plans for the apartment development are completed," says Crawford who is selling the property by tender closing at 4pm on July 4 unless it sells prior to that deadline.
"The resource consent is for 43 apartments with a total net lettable area of 3600sq m comprising a mixture of 17 one bedroom units, 20 two bedroom units and six three bedroom units having large central courtyards. In addition to being a short walk to the Otahuhu shops, the apartments would have off street parking and excellent road frontage with easy access to SH1, the Highbrook business centre and Sylvia Park.
"Mixed use flat site development land close to established local suburban shopping and business centres is a rare find in Auckland, let alone being already consented for the construction of an apartment complex and having good holding income," says Crawford.
The proposed apartments will feature open plan kitchens and dining rooms with either private balconies or courtyards.
Crawford says the concept for the apartment complex was originally designed in 2005-06 before the proposed changes to the current Auckland District Plan had been suggested.
"Higher density living with more common areas and green space are present in the project design, so this plan was clearly just a little ahead of its time".
He says there are two main options for the development under the current format.
"Firstly to develop and sell down the units with individual titles and secondly to develop and hold, creating a large rental block with an onsite management."
He said mixed use zoning would allow for either residential or commercial developments or a combination of both.
"A successful purchaser could take a fresh look at what has previously been granted by Auckland Council and develop their own concept for what Otahuhu township needs most," he says. "The Otahuhu shops have seen a solid occupancy over the past five years with the housing demand and prices steadily increasing. The Otahuhu retail strip is under 15km to Auckland CBD and it is still one of the few suburbs with affordable housing."
What's on offer
*For sale: Flat freehold development site
*Address: 39-45 Atkinson Ave, Otahuhu
*Agency: Barfoot & Thompson Commercial
*Sales method: Tender closing at 4pm on July 4
*Features: Resource consent for development
*Holding income $88,000 per annum
*Close to Otahuhu retail strip