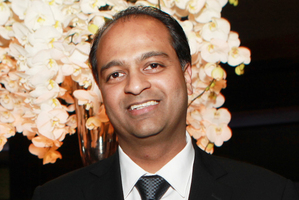 Major Auckland office block Swanson Towers could be in line for conversion into a hotel.
The building is owned by interests associated with Queen St-headquartered international hotel investor CP Group, owned by the Pandey family, and consultants have tipped CP to convert the block on the corner of Swanson St and Hobson St.
Builders have already moved into CP's ex-Reserve Bank building on the corner of Customs St East, which is expected to be a new Accor operation.
CP, run by Charles Pandey's son Prakash Pandey, has many large hotels in Auckland including the ibis Budget on Wyndham St, Mercure Hotel Auckland at the intersection of Queen St, Queen Elizabeth II Square and Customs St, and Mercure Hotel Windsor at 58-60 Queen St.
The company has a partial stake in the waterfront Sofitel Auckland, owns the Pullman Auckland, Base Backpackers at 16-22 Fort St, Fat Camel Hostel and Bar at 38 Fort St and Dingwall Building at 87 Queen St where it has its offices on level seven.
CP also owns properties in Wellington, Dunedin, Queenstown and Picton, as well as overseas in Australia, Singapore, India and Fiji including Novotel in Nadi and Suva.
CP has also expanded into the United States.
Last October, Red Lion Hotels said it was selling a Denver hotel to a subsidiary of a New Zealand company. The Spokane, Washington-based Red Lion, listed on the New York Stock Exchange, sold the 478-room Red Lion Hotel Denver Southeast for US$13 million.
It was bought by Pandey Hotel Denver, a subsidiary of Pandey Hotel Corp which is the US division of CP Group New Zealand