Revitalisation of precinct drives Auckland businesses to connect with their harbour.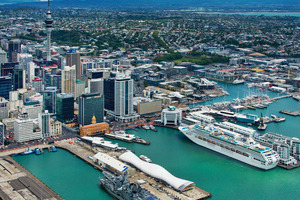 Strong demand for office accommodation close to the waterfront in Auckland's central business district has pushed vacancy rates for buildings in seaside precincts into single figures with very little prime space available.
The latest CBD office occupancy survey undertaken by Bayleys Research earlier this year shows vacancy rates in waterfront precincts are well below the overall CBD vacancy rate of 13.6 per cent.
The Britomart precinct has the CBD's lowest vacancy rate of just 3.3 per cent, with no empty prime space, while the Viaduct's vacancy rate sits at 7.2 per cent, with its prime rate at 4.8 per cent.
Meanwhile the rapidly developing Western Reclamation precinct, which takes in the Wynyard Quarter, has only 5.8 per cent of its office space vacant and no prime premises available for lease.
John Church, Bayleys Real Estate's commercial and industrial manager, says there has been a noticeable northward drift of tenants towards the harbour in recent years which is reflected in the lower vacancy rates for buildings near the water.
"The reconnection of the CBD with the harbour which started with the revitalisation of the Viaduct, then the Britomart and Quay Park areas, and now the Wynyard Quarter, has made these areas much more attractive for businesses," says Church.
He says Bayleys has established a specialist waterfront leasing team focused on this area.
The team is headed by Rob Cross and Brendan Graves who have recently returned to New Zealand from Canada where they worked in the Toronto commercial property market.
Cross says space availability starts at around 70sq m for recently refurbished office suites in the Harbourview Building at 152 Quay St which have panoramic waterfront views and have been finished to a high standard with their own kitchenettes and dedicated air-conditioning units.
Graves says that for those seeking more minimalistic character space, boutique "brick and beam" fully refurbished floors of approximately 200sq m are available for lease at 56 Fort St opposite the Vero Centre.
Rentals range from $150 to $200 a sq m, with operating expenses of $73 a sq m, which he says provides a very affordable option for smaller tenants.
Graves says a full floor of 687sq m has also recently become available on level two of the historic Ferry Building, which sits right on the harbour's edge.
He says it's the only available space in the building and the landlord will consider a part lease of the floor. Jasmax Architects has been engaged to undertake interior refurbishment which is now under way.
The building's exterior is most of the way through a $1 million facelift and the Botswana Butchery, which purchased the Harbourside Seafood Bar & Grill operation on the first floor, is also undertaking a full interior refurbishment.
Cross says pockets of space are still available with harbour views in high-quality modern buildings such as the PwC Tower and Vero Centre from around 130sq m.
One of the biggest landlords on the Auckland waterfront is Precinct Properties, which owns close to 2ha of properties between Quay St and Customs St overlooking the waterfront. Its portfolio includes PwC Tower and the adjoining AMP Centre, and a number of properties fronting on to Queen Elizabeth Square.
These comprise HSBC House, which Precinct Properties recently acquired for $103 million, Zurich House and the Downtown Shopping Centre that was purchased with a view to future office development on top of the retail complex.
Precinct chief executive officer Scott Pritchard says two of the 17 levels of the HSBC House, which Precinct took possession of last month, are vacant but there is limited space left in any of the other neighbouring buildings that Precinct owns. Both the AMP Centre and ANZ Tower, in Albert St, are 100 per cent leased.
Pritchard says there has been a significant movement of clients into Precinct's buildings from more southern parts of the CBD.
"We have focused on becoming the dominant building owner along the waterfront between Princes Wharf and Queens Wharf." Pritchard says a waterfront location providing buildings with unimpeded views of the harbour is a big attraction for tenants, but there are other factors too.
"Being close to the Britomart train and bus terminal and near the ferry terminal is a big thing."