44B JOHN BRIAN DR, REDVALE
SIZE:
Land 1.8ha (approx), house 664sq m.
PRICE INDICATION:
Buyers above $3 million. Auction June 20.
INSPECT:
Sun 2.30-3.30pm or by appointment.
SCHOOL ZONES:
Long Bay Primary School, Long Bay College.
CONTACT:
Ailsa Robertson, Bayleys, ph 487 0609 or 0272 984 000.
FEATURES:
This lifestyle property features a striking 10-year-old Spanish-style home, a studio apartment and a two-bedroom, one- bathroom cottage. The large outdoor living area has a fireplace, loggia, pool and cabana. There's also a tennis court, creek and small orchard.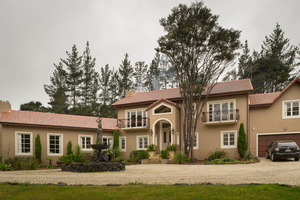 Dave Blanchard had just painted the last white stripe on the tennis court at his lifestyle property - the final act in a 10-year dream-home project - when his wife declared she wanted to move.
The tennis court was the last flourish at the resort-style estate, which began with an ambition to build a Spanish-inspired family home in a country setting.
Dave and his wife Michelle looked for a site for a year. As a devoted Shore boy, he was keen to find something that felt rural but was close to town.
When they found a 1.8ha piece of land in Redvale, a rural area north of East Coast Bays, they knew the search was over. It was a private site of bush and farmland with plenty of room for a big home, but they could be on the sand at Browns Bay or Long Bay in 10 minutes, in a shop in Albany within 15, and in the city in 20.
That was a decade ago. They bought it, and had plans drawn up for a large, solid masonry home that harked back to the Spanish, Santa Barbara and Santa Fe design styles they'd fallen in love with on their travels, with soaring cathedral ceilings, balconies, a sweeping staircase with a wrought-iron railing, and a large north-facing courtyard and pool accessed from the living areas.
Their first step was to build a two-bedroom cottage in the same style, which they moved into while supervising the build of the house, across the circular driveway. At that time, Michelle was pregnant with their second child, so they created a home that would work equally well for immediate family and for guests.
The family's three bedrooms are all on the upper level, accessed off a landing and bridge that overlook the soaring foyer. A games room and the swimming pool keep the kids happy, a large family room with an enormous wood fire opens via bifold doors to the courtyard, and a formal lounge and dining room provide elegant, cosy spaces for grown-ups.
Guests are well provided for, with their pick of two rooms downstairs, a self-contained loft-style apartment and the cottage. All of the bathrooms (five in total across the two dwellings, plus a powder room) are large and elegant, with French farmhouse-style sinks and underfloor heating to keep things cosy.
As well as sourcing their inspiration from overseas, Dave and Michelle imported many of the most striking features of the home. In the kitchen, the tiles are from Portugal and the benchtops are Italian Carrara marble. The rustic Baltic pine front doors are from Egypt, as are the four chandeliers that grace the foyer, formal dining room, main bedroom and even the loggia in the courtyard. Dave says the latter looks magical lit up at night and is a great spot for entertaining.
The flooring is a mixture of tinted concrete, scored to resemble large tiles; carpet and Australian blackwood, with thick, exposed macrocarpa beams milled in Puhoi for the ceilings.
After such a lengthy and involved development, Dave doubts they'll find anything comparable to move to. But Michelle is adamant that she wants a change, and their 9-year-old daughter is campaigning to get a horse, so they've decided to look for a property that will accommodate one.
So, with the paint on the tennis court still fresh, Dave is resigned to playing the good husband and indulgent father, and giving in.