38 FIR ST, WATERVIEW
SIZE:
Land 549sq m, house 230sq m.
PRICE INDICATION:
Interest expected above $800,000. Auction on site 11am June 23 (unless sold prior).
INSPECT:
Sat/Sun 1-1.30pm.
SCHOOL ZONES:
Waterview School, Rosebank School, Avondale Intermediate, Avondale College.
CONTACT:
Lisa Smyth, ph 021 141 5860 or Noeleen Woods, ph 0274 843 168, Ray White Pt Chevalier, ph 846 2196.
FEATURES:
Architect-designed two-storey home with central, light-filled atrium and living spaces opening to decks. Retractable awning on main deck, home automation system, heat pumps in living area and master bedroom.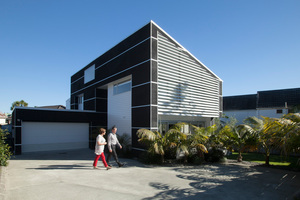 What started as a spec house for Sue and Murray Coulter is now the comfortable, low-maintenance home they have enjoyed for five years.
The couple took the project on after architect Greg Posa subdivided the section on which his home sat and drew up plans for a townhouse on the new site.
"He had cleaned up the section and designed this as a dream house that he wanted to build and live in, but he didn't go through with it so we bought the section and the plans," says Murray.
Sue adds: "At the time, we were living in an apartment in Wellington and we weren't going to live here because we didn't want a full-on house. And we didn't know anything about Waterview or how close it is to town."
But things changed when Murray was offered a job transfer to Auckland, where their son and daughter had settled.
With Murray and Sue in Wellington, their daughter Rachel worked with builder Paul Swindells on the project. She chose the townhouse's black and white colour scheme and with Paul added touches such as the custom-made black and white vanities in each bathroom.
"It was quite late in the project when we decided to live here," says Sue. Murray adds, "So we built something we liked but not something that was necessarily for us."
Louvres on the northern side combine with a steep mono-pitch roof to give the two-storey home a strong presence that is softened by palms around it. Aluminium edging on the dark-stained ply panels provides interesting lines and complements the aluminium joinery.
Inside, a double-height space at the entrance is crossed by a bridge that connects the two upstairs bedroom wings. The dining area occupies most of the double-height space and opens to a sunny, west-facing deck under a retractable awning driven by the home automation system. Glazing in the upper half of the atrium means light pours in, and gives views from the bridge of the entrance on one side and the garden and neighbourhood on the other.
"Even on a dark day, all this living area is filled with light," says Sue.
Wide blackwood floorboards, dark of grain, complement the monochrome colour scheme and run through the dining area and casual living area and kitchen, which has plenty of bench space to cater for large-scale entertaining. Doors from the kitchen open to another deck where the barbecue is handily located.
"I just love how you can open it all up when you have a party," says Murray of the array of sliding doors, French doors and bifolds that give great indoor-outdoor flow on the northern and western sides.
On the other side of the dining area is a carpeted lounge with gas fire, a favourite haunt in winter or when Sue and Murray want to enjoy a movie with the built-in speakers.
Beyond the lounge is a guest bedroom with walk-in wardrobe and en suite.
Upstairs there are two bedrooms at the front of the house and these are shaded by the louvres, which also provide privacy. On the other side of the bridge is the main bathroom and master bedroom with en suite and walk-in wardrobe.
While the house is much larger than Sue and Murray need, it has been handy for hosting birthday and Christmas gatherings for up to 40 people at a time.
Having enjoyed their time in their 10th home, Murray and Sue now plan another move - to Orewa to spend more time at the beach and indulge their newfound love of paddleboarding.