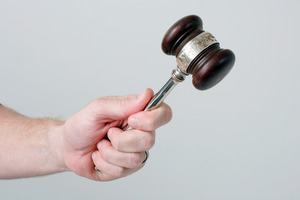 It's late in the afternoon and dozens of people are packed into two auction rooms in downtown Auckland.
The Barfoot & Thompson auction has brought in the young and old, couples, men in suits, young singles - and they are spilling out on to the street.
There is a buzz within the room.
For most of the properties up for grabs, the bidding starts at the $395,000 mark, while others start at the $500,000 mark.
A four-bedroom flat in Massey ends at $590,000 but the reserve is not met. A house in New Lynn is sold for $535,000 - although the starting bid was $400,000. The cheapest is a unit in Royal Oak, which goes for $395,000.
A woman with a a flower behind her ear says she's heading home without making any bids.
"I was looking at a house ... the bidding started at $500,000 and then all of a sudden it's way past $1 million. I didn't even get to bid."
Many are quick to jump in when the bidding starts, but then slowly dwindle away after two or three other offers.
Most of those coming away with homes are Asian and the majority of those are young couples.
A four-bedroom home with a sunroom, rumpus, huge backyard and a double garage in a prime spot in Mt Albert proves to be the one people are waiting for.
At first, there is silence when the auctioneer scans the room. After waiting for a starting bid, she makes a suggestion: $800,000. A hand pops up - followed by another. Soon there are three bidders at war.
Suddenly an Indian couple who look to be in their mid-forties join the battle. They look increasingly nervous as the bidding goes past the $1 million mark.
The other serious bidder - a young Asian man - looks calm, leaning lazily against a wall.
At $1,072,000 , the young man is no longer leaning against the wall and with a slight shake of the head, he's out.
A resounding "yes!" is heard and people start clapping for the winning couple, as they embrace.