Construction and property upgrades are breathing new life into the city's heart.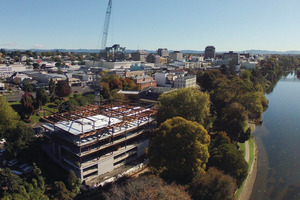 After many years of inactivity, Hamilton's central business district is seeing a development surge in commercial, retail, industrial, entertainment and hospitality properties, says Ian Little, senior analyst with Bayleys Research.
Writing in Bayleys' latest Total Property magazine, Little says construction companies are reporting a number of big work programmes in Hamilton with new mid-rise office towers, retail and hotel developments, and substantial industrial subdivisions either under way or on the drawing board.
"A string of new schemes, property upgrades and redevelopments have centred attention back on the Hamilton CBD following a prolonged period when all the action looked to be taking place north of the city," Little says in his overview of the Hamilton commercial and industrial property market.
He says approximately 9000sq m of new A-grade office space will be completed this year at McConnell Property's Citygate project, on the corner of Anglesea and Ward Sts in Hamilton, and also at the Project Grantham development overlooking the Waikato River.
Both projects have been successful in attracting anchor tenants.
PwC has committed to the top two floors of the five-level, triangular-shaped Citygate development, which will become known as the PwC Centre, while Southern Cross Healthcare will occupy the two levels below.
The 5300sq m building, with a four-star green design rating, is being constructed on a site that has been vacant for 17 years. It is already 95 per cent leased ahead of its July completion date with just four ground retail tenancies remaining.
The top two floors of the Riverside building at 21 Grantham St, which will comprise four levels of office and retail space and two basement parking levels, will be occupied by Mighty River Power, which is signing a 15-year lease.
As part of that development, the historic Hamilton Club building has been relocated 11m closer to the river and is being strengthened and converted to commercial space which will open out on to a piazza courtyard connected to the river reserve.
Little says the city centre's retail sector is also being enhanced through Kiwi Income Property Trust's $40 million upgrade of its Centre Place shopping precinct. The second stage of this is under way with the redevelopment of the former Downtown Plaza complex, which will accommodate a new 7000sq m Farmers department store and a fashion-focused specialty mall, targeted for completion in time for Christmas trading.
Kiwi Income says another key element of the competitive repositioning of the centre is a new 15-year lease to Hoyts Cinemas over the multi-screen cinema complex. This is being modernised at a cost of $7.1 million and is also scheduled to reopen in the fourth quarter of 2013.
"The city's hotel accommodation stocks are also set to increase sharply following confirmation that Sky City Casino has been granted consent for a three-level, 135-suite hotel," Little says.
The luxury hotel will lift CBD hotel room stocks, adding to the 177-room, four-star Novotel Tainui, and the Ibis Hamilton's 126 three-star rooms.
The refurbishment of two of the central city's heritage buildings is also creating additional boutique accommodation and conference space.
The historic Anchor building, on the corner of London and Victoria Sts, has become the Quest Hamilton serviced apartment complex in a $10 million redevelopment offering a mix of 38 studio and one and two-bedroom self-contained serviced apartments.
Another heritage building, the 39-room former Le Grand Hotel at 238 Victoria St, has been renamed Hamilton City Oaks.
The hotel rooms are being refurbished and a conference facility, which can cater for up to 600 people, is to be opened.
"The numerous development and refurbishment schemes, both planned and under way, along with the commitment to the central city of major employers such as PwC, Mighty River Power, Deloitte and Southern Cross, are a major boost to the council's strongly stated preference for the CBD to remain the city's commercial and retail hub," Little says.