6 NGAPARA STREET, RED BEACH
SIZE:
Land 684sq m, house 305sq m.
PRICE INDICATION:
Upwards of $1.8 million. Expressions of interest.
INSPECT:
Sat/Sun 2-2.45pm.
SCHOOL ZONES:
Red Beach School, Orewa College.
CONTACT:
Lynnette Thomas and Jenni Finlayson, Bayleys, ph (09) 426 5911 or 021 758 680 (Lynnette) and 021 506 920 (Jenni).
FEATURES:
Large house on a flat section across the road from Red Beach, a half-hour drive from Auckland's CBD, on the Whangaparaoa Peninsula. The house has four bedrooms plus study, broad sea views and a choice of indoor and outdoor living areas.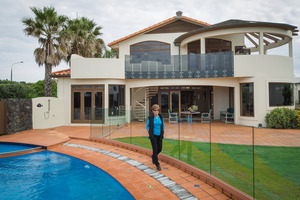 When a real estate agent suggested Bev Weal join her for a drive to Red Beach, her first thought was, "Where's that?" Her second was, "Why not?"
Bev and her husband Trevor had just sold their apartment in Milford. They had tired of high-rise apartment living - and of taking their steaks and tongs all the way down to the ground floor in a lift when they had an urge to barbecue.
They hankered for a coastal property with a bit of space, privacy and easy indoor-outdoor flow. But the options were few in Milford, which was becoming increasingly built out.
The agent was driving up to Red Beach to do an appraisal on a beachfront house that had recently been renovated and was coming on the market. After a 25-minute drive to the start of the Whangaparaoa Peninsula, Bev found herself walking through huge double-entrance doors into a spacious and light-filled entrance area, with a broad staircase that swept to the upper levels.
As the house opened out before her, she became more and more interested.
Downstairs were three connected high-stud living spaces atop recycled kauri floors and opening out to sunny and private outdoor areas.
At the centre was a stylish native timber kitchen, with bifold doors opening out to the larger of the outdoor areas, with paving, lawn, garden and pool.
Upstairs was a master suite with en suite and walk-in wardrobe and a second lounge featuring a striking native timber bar shaped like the prow of a boat. A deck wrapped around the north and east, with an alluring panorama along Red Beach, looking out to Kawau, Great Barrier and Little Barrier islands.
Even the garage had indoor-outdoor flow, with light pouring in through two sets of French doors to the garden. And there was plenty of room for their children and grandchildren to stay, with a separate wing accommodating three bedrooms and a large bathroom.
When Bev told Trevor about Red Beach, he also said, "Where's that?" But he was easily convinced. The house was everything he and Bev had wanted, far better value for money than Milford, and still an easy commute to his work in Forrest Hill.
"When I told my colleagues you could throw a stone from the deck and hit the water, they were very impressed."
The couple's two young granddaughters squealed at the potential for long summers swimming in the pool, and the safe beach over the road. There was no going back to Milford after that - the house was duly purchased.
Bev and Trevor quickly settled into the lifestyle, enjoying views of Red Beach Surf Club action on the water, looking out for orcas, whales and dolphins, wandering down to the community tennis courts with their granddaughters, playing golf at the local course, jogging around the quiet streets and socialising with friendly neighbours.
Bev jokes that she doesn't take the dog for a walk down to the beach - she takes her kayak. She puts it in the water outside the property and paddles to Orewa or to Stanmore Bay.
After 11 happy years, Bev and Trevor have decided to downsize. They plan to stay on the Whangaparaoa Peninsula but say they'll struggle to find a house comparable to this home.
"It's a big house for just the two of us," says Trevor, "but we're not going to be too upset if we don't end up moving."