88 WOODLANDS PARK RD, TITIRANGI
SIZE:
Land 1011sq m, house 200sq m.
PRICE INDICATION:
Similar homes in the area are selling in excess of $600,000. Auction June 9 at noon on site.
INSPECT:
Sat/Sun 12-12.30pm.
SCHOOL ZONES:
Woodlands Park School, Glen Eden Intermediate, Green Bay High School.
CONTACT:
Keith and Sandy Dowdle, Custom Residential, ph 021 877 905.
FEATURES:
Renovated and remodelled villa with two living spaces, new kitchen and bathrooms, enclosed sun porch, decks and downstairs office. Close to school and shops.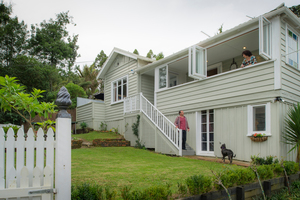 A view to the Waitakeres was part of the vision Neil Waddington and Jo Brodie had for their home after buying a section that had been an orchard.
The west-facing site they bought about 20 years ago had been subdivided from a larger property and was full of apple trees.
To plan what they were going to do, Jo and Neil visited the site armed with a meal of fish and chips.
"We laid the fish and chips out on the ground and Neil made me climb an apple tree and said, 'This is where our veranda will be and that will be your view," says Jo. "While we were doing that, the neighbour's Rottweiler came over and ate our fish and chips."
Although the fish and chips disappeared quickly, that leafy view remains as pristine as ever because the bush forms part of a protected water catchment area.
The apple trees were soon cleared, though, as the couple planned to shift a character home on to the section. Jo spotted an ad for a transitional villa in Takapuna being sold for removal, and one look was all it took to convince them to buy it.
Despite not having relocated a house before, Jo says their landlord at the time, who had moved two homes, gave them confidence they could do it.
"It was our first house and it was a relocatable; we were so green," says Jo.
Neil adds, "We had a real 'What have we done?' moment when we had the two bits of the house on site and there was a big gap down the middle and the pieces were sitting at different heights."
Moving in during "the coldest Labour weekend in 30 years" in 1994 gave the couple a good idea of the work that was ahead of them to make the home comfortable. In 1997, having made the house "liveable", they went overseas for five years before returning to get stuck into renovating it in a sympathetic fashion but with modern conveniences and greater indoor-outdoor flow.
Warming up the home was a priority so it has been insulated and has a new woodburner, a heat transfer unit and a heat pump.
Solar hot water helps to cut the power bills. Fencing the property also became an issue with the arrival of sons, Atticus now 9, and Deacon, 6.
A new kitchen and bathroom were part of the renovation as was introducing an en-suite and walk-in wardrobe to the master bedroom by enclosing the south-facing section of the wraparound veranda.
The rest of the veranda - facing west - has also been enclosed but has large bifold windows to open it up with the elevation providing views and sun in the bush setting. "It's such a sunny spot here," says Jo. "I can't count the number of times I've taken a sleep here, and the kids, when they were little, used to nap here."
French doors connect this space with the master bedroom, and have been used off the lounge and dining room to provide flow to a deck on the eastern side and a patio to the north.
The boys' bedrooms are on the left side of a hall that leads into a kauri-floored, open-plan kitchen and dining room.
Downstairs, Jo has a space where she works as a freelance makeup artist.
This has a separate entrance plus internal access and sits beside the garage and basement storage space.
Renovating the home meant scouring demolition yards for materials as well as sourcing vintage items such as the brass bell at the door.
Visitors use it to announce their arrival, and Jo rings it when she wants their sons to come home from playing with their mates at Waima Reserve across the road.
Now that the boys are older, the family is moving to a larger property with a swimming pool in Laingholm.