54 DRYDEN ST, GREY LYNN
SIZE:
Land 490sq m, house 205sq m (approx).
PRICE INDICATION:
Interest expected upwards of $1.6 million. Onsite auction at 3pm tomorrow (unless sold prior).
INSPECT:
Sat/Sun 2.15-3pm.
SCHOOL ZONES:
Richmond Road School, Ponsonby Intermediate, Auckland Girls' Grammar, Western Springs College.
CONTACT:
Jason Trowbridge, Custom Residential, ph 021 358 888 or 360 4960.
FEATURES:
*Plus two off-street parks. Bungalow opposite Grey Lynn Park, transformed with upmarket features. Includes two living areas and master suite opening to outdoor entertaining around glass-fenced exercise pool, gourmet kitchen with butler's pantry, plus sophisticated security system.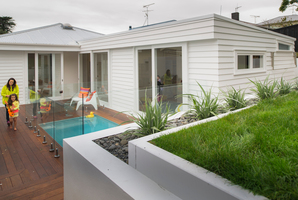 Construction company owner Andrew McDade has had to resist subtle pressure from loved ones to keep this premium bungalow neighbouring Grey Lynn Park for themselves.
His fiancee, Lulu Wilcox, and their elder daughter, 5-year-old Julia, are big fans of the upmarket transformation he and his AMC Group team have achieved in this circa-1940s bungalow.
Andrew says, "Julia's said, 'Daddy, I want to live here'."
Freelance fashion stylist and former women's magazine fashion editor Lulu admits to particularly coveting the svelte kitchen in the living-dining-kitchen spread. That's understandable. It's got a butler's pantry with sink behind a fringed curtain, CaesarStone benches, Bosch appliances that include two dishwashers and two ovens plus mega-storage behind push-button doors.
Julia's pretty keen on the pink-and-white villa-style playhouse Daddy built her at home. But you can't get much past a 5-year-old these days and she's keenly aware her blow-up pool doesn't stack up against the glass-fenced exercise pool with swim-jets here.
Andrew's thankful 3-month-old daughter Suzi-Lou's too young to voice opinions. But even family dog Pookie-Bear makes her canine feelings known, ever-keen on walks in the park just across the road.
It was the parkside location that sold Andrew on this property a year ago, as he'd noticed how popular and family-friendly it was.
"A couple of times I've run through [the park] before starting work here in the mornings and it's amazing how many people are out in it."
The original bungalow offered lots of opportunity for improvement. "It was tiny."
Excavating below created an internal-access single garage alongside a fourth bedroom which also suits a work-from-home office.
The backyard sloped fearsomely until Andrew's team terraced it to create the outdoor entertaining hub with pool, stepping up to a level lawn.
"Actually, we made sure the lawn still sloped just a little bit so you could appreciate its greenness from inside," says Andrew. He's been known to rework features until he's completely satisfied. But he gives much of the credit for this bungalow's result to his team, who he says are very detail-oriented.
The home's fresh white exterior contrasts with the lush green of a patch of level front lawn.
Andrew reckons he's become more aware of family-friendly features since becoming a family man himself; one example being a smart cloak cupboard inside the side-entry foyer. He's opted for a fireplace that really pumps heat throughout the roomy front living-dining-kitchen, which is adorned with an antique ceiling rose and a window-seat.
Lulu helped him choose decor. They wanted resilient white floorboards which would still show the wood's texture in the open-plan area and achieved this by polyurethaning over whitewash.
An immaculate bathroom featuring honeycomb mosaic tiles and a freestanding modern bath lies between two good-size bedrooms.
A separate laundry doubles as a powder room and also offers a Bosch dryer and washing machine, soft-close cabinetry and a pull-out ironing board.
Both the kitchen and an additional family-media room have sliding stacking doors which open them up widely and cleanly to the patio.
Andrew says, "The sun on this property's great. It comes up around the front, travels around the house during the day and oozes down out the back where you want it later on."
Extending the bungalow created the family-media room and the poolside master suite with walk-in wardrobing and chic en suite.
The exercise pool's powerful swim-jets run off two three-horsepower motors. Alongside, the patio's built-in barbecue with outdoor sink forms an al fresco kitchenette.
Premium extras in the home include shag-pile carpet and a sophisticated security system that enables remote security monitoring and activation. A pull-down attic ladder reaches storage above the hallway ceiling, bolstered by sub-floor storage off the garage.