3/14A MACMURRAY RD, REMUERA
SIZE:
Land share 1011sq m, house 118sq m.
PRICE INDICATION:
CV $550,000. Auction May 16 (unless sold prior).
INSPECT:
Sat/Sun 1.30-2pm.
SCHOOL ZONES:
Remuera School, Remuera Intermediate, Epsom Girls' Grammar, Auckland Grammar.
CONTACT:
Liz de Vere, Barfoot & Thompson, ph 021 630 223.
FEATURES:
Classic two-storeyed 1970s design by Claude Megson. In original condition and with a lovely aspect to a private garden from most of the rooms, with open-plan, spacious living areas and a fireplace. High ceilings, original mosaics in the bathroom, and a galley kitchen all in good condition just waiting for an update.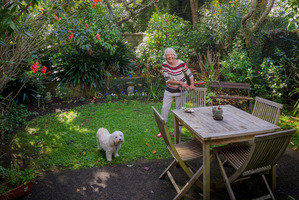 For all her 80-plus years, Joan has lived near Mt Hobson. "We played there as children," she says, "and I've always walked my dogs on the mountain."
More than 30 years ago, when it was time to downsize, Joan was delighted to find a townhouse on the other side of the mountain from where she grew up. "I wanted a bolt-hole so I could travel," she explains. "This was just so peaceful and quiet, and I could still walk to the mountain."
Joan was also drawn to the architecture, by one of the 1970s "new romantics", Claude Megson. "The sarked ceilings and pitched roof reminded me of the house we built in 1951," she says. "And apparently Megson studied with our previous architect, David Swan."
Megson, along with his contemporaries Ian Athfield and Roger Walker, was known for his ground-breaking "New Zealand vernacular" style. This Remuera group of three townhouses won an award in 1971, with special mention going to the "remarkable carport" with its roof forms sheared-off to a 45-degree angle. That unusually angled carport allows for individual parking for each unit tucked down a right-of-way, and creates the privacy and seclusion that Joan has loved.
"I'm surrounded by trees and birds," she says. "You wouldn't know we were 10 minutes from Newmarket."
Joan also loved the solid concrete construction and the interesting angles in the upstairs bedrooms. The plan is virtually unchanged, with only minor tweaks in the four decades since it was built. "I enclosed the front terrace with glass for wind protection," Joan says, "and now it's a lovely sheltered afternoon spot." She's referring to the secluded entrance courtyard, at the southwest of the row of townhouses.
The interior layout reflects Megson's understanding of daily routines and what he called "the rituals of family life". Careful placement of concrete-block columns separates the entry, living, dining, kitchen and stairs, but creates a natural flow between the spaces.
A signature square window above the fireplace is visible from the front door, hinting at the lush garden beyond. Megson emphasised native planting and now Joan's northern courtyard is surrounded by greenery. "I do love the fire," says Joan, noting that the antique brass rail journeyed from her late husband's family home in Scotland. That won't stay with the house, but the modern heat pump will.
The L-shaped living area has spaces for sitting, library shelves and a generous dining area with its handmade table. French doors open to both sides, so Joan has enjoyed sun morning and evening, with that tantalising view of Mt Hobson from front and rear.
Joan's only other touch-up was in 2002, when she added a separate toilet and laundry tub off the sunny kitchen porch.
Upstairs, there's another separate toilet and the time-capsule bathroom, complete with its deep blue mosaic tiles and Japanese-style bathtub. "I love the bath," says Joan, pointing out the skylight in the pitched timber ceiling.
Both bedrooms have pitched timber-sarked ceilings and more glimpses of the mountain above surrounding tree-tops. The north-facing master bedroom enjoys a sunny L-shaped deck overlooking the garden. The complex pitched roof allows for a separate walk-in wardrobe and more storage.
Apart from her daily treks to the mountain with her dog Lulu, Joan has loved being able to walk to Newmarket. "Claude lived in one of the units for a while," she says, "so he's been back to see how they worked."
This peaceful spot has worked well for Joan too.