325 IHUMATAO RD, MANGERE
SIZE:
Land 9.055ha, house 240sq m (approx) + cottage approx 120sq m.
PRICE INDICATION:
Interest anticipated above $4 million inclusive. Tenders close June 5 (will not be sold prior).
INSPECT:
Sunday 11am-noon (cottage by appointment).
SCHOOL ZONES:
Mangere Central School, Mangere College.
CONTACT:
Don Cameron, Bayleys Papakura, ph 021 971 601 or (09) 295 1187.
FEATURES:
*Villa: 3 beds, 1 shower, 1 car space. Cottage: 3 beds, 1 shower, 1 car space. Freehold landholding neighbouring Otuataua Stonefields with villa and cottage, views over the Manukau Harbour and significant future potential given it's now zoned "Future Urban''. Just 19km from Britomart CBD, on historic Mangere farmland. Opportunities exist for capital growth.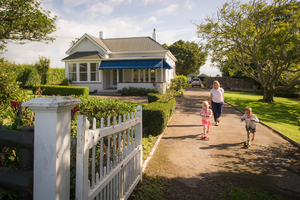 The focus of a historic Mangere property which used to be all about producing meat has switched to future development potential.
Neighbouring the Otuataua Stonefields Reserve, this freehold landholding with villa, cottage and views over the Manukau Harbour used to be zoned rural. It's now been brought within urban limits with "Future Urban" zoning.
That means it's been earmarked for more intensive development in the future once the council does a detailed structure plan for the area. So the property offers a tranquil rural lifestyle 19km from Auckland's CBD, with opportunity for future capital growth.
When the late Louie and Evelyn Mendelssohn moved here from Onehunga on Guy Fawkes, 1960, they did so to produce beef. Louie was a butcher who owned a Te Papapa butchery. He went on to become a livestock trader who finished prime stock from the saleyards for butchers around Auckland.
The Mendelssohns' son, David, says "the story goes that a friend of Dad's literally bought the farm at auction and rang up Dad and said 'I've bought a farm for you'." Now four generations of their family have lived on the property, across both of its houses.
David and sister Lea, who also have an older brother, Basil, say they enjoyed an idyllic rural life here, treating the rolling pasture defined by picturesque drystone walls as their adventure playground. They loved the open space and Lea had a pony. As well as beef cattle, their parents kept a dog called Ruff and a menagerie of poultry.
David says, "Mum loved gardening and used to have it like a park here."
Lea adds "... and Dad loved his stock. He used to sit with them and talk to them, even though he was a butcher and had to send them off."
The address is near the end of Ihumatao Drive, more than 3km from the George Bolt Memorial Drive turn-off. The peaceful setting looks out across the Manukau Harbour, other farmland, and the neighbouring Otuataua Stonefields Reserve.
"It's a hidden jewel of Mangere," says David.
"You get absolutely fantastic sunsets, and it's not under the flight path," says Lea.
The property includes a three-bedroom, one-bathroom former milker's cottage with garage; currently tenanted. But the main focus to date has been its character kauri villa, built by previous long-term owners around 1904.
It's down a long driveway behind heritage-style gates, surrounded by long-established trees including a pururi, jacaranda and flame tree.
Its sprawling front veranda opens to a high-stud hallway where the siblings used to play carpet bowls as youngsters. It's currently lived in by Lea's daughter, Kate (pictured with children Charlie and Ava), and her husband, Jay.
Orphaned newborn lambs used to be warmed in the big airing cupboard or in front of the fire in the light-filled front lounge, which has French doors opening to the veranda.
The large kitchen-dining-family room shows off beautiful kauri floorboards. The kitchen was made open-plan and smartly upgraded with granite benches. The hall also feeds three good-sized bedrooms, a bathroom and a toilet. The villa has a single garage and neighbouring sheds and the property has stockyards and is on town supply water.
David and Lea have fond memories of this property, which they've both lived in with their own families at various times. Their parents' ashes are interned on a part of the farm which the council later acquired as part of the reserve. But they're established with their own households now and say it was their mother's wish that this property be sold.