10A LAW ST, TORBAY
SIZE:
Land 1161sq m (approx), house 270sq m (approx).
PRICE INDICATION:
CV $770,000. Auction May 19.
INSPECT:
Sat 3.30-4.30pm, Sun 10.15-11am.
SCHOOL ZONES:
Long Bay Primary School, Torbay School, Northcross Intermediate, Long Bay College.
CONTACT:
Annie Booth, Harcourts, ph 486 9239 or 0274 888 260.
FEATURES:
A solid 1970s brick home in near- original condition, on a large section in Torbay with pool, spa and lawn. The spacious open- plan living area opens to a private courtyard, and to a deck and conservatory with views to Rangitoto.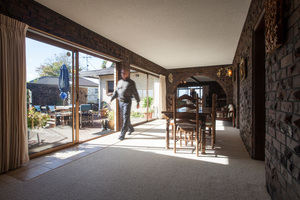 When Hazel and Fred Barker moved into their Torbay home in 1975 they figured they'd found their dream retirement.
The design was ahead of its time, with a spacious open-plan living area opening to decks and sea views, a breakfast bar, a butler's kitchen, triple garaging, and even a walk-in-wardrobe and en suite off the master bedroom.
It also set a new threshold for solidness, with double-brick internal and external walls. Son Steve says when it was built, 18 months before his parents bought it, the builders used 25,000 bricks rather than the standard 5000. This was so remarkable that the executives of the company supplying the bricks traipsed out to marvel at it - and, no doubt, to figure out how they could persuade every builder in Auckland to follow suit.
As a former Navy marine engineer and oil rig worker, Fred had had adventures all over the world and he and Hazel didn't want to settle for anything too conventional.
"They wanted something unique," says Steve. "This was the most lovely house Mum had ever seen."
They certainly got "unique", with clinker-brick archways, saloon doors to a resplendent clinker-brick bar, and a clinker-brick built-in barbecue.
Steve swears the brown clinker-brick look is destined to come back into fashion any year now, following the 70s light shades and other retro treasures in the house.
As well as a distinctive interior, Fred and Hazel got plenty of land. The 1161sq m section (more than a quarter-acre) gave them enough space for a backyard, a vege garden and fruit trees, and within a couple of years they'd added a large pool and spa.
Their goal was to entice their four children and grandchildren to visit - and it worked, perhaps a little too well at times. Steve says five generations of the family have lived there at some point, starting with his grandmother and including himself.
The place has hosted many a happy family gathering, with Steve and his brother Jeff conscientiously holding up the bar while the younger generations let loose in the pool or trekked or cycled down to Waiake and other nearby beaches.
Steve's father prided himself on running the house as smoothly as the ships he'd served on, right until about a year before his death, 18 months ago. Steve is gobsmacked that his father had installed five garden taps, just to ensure he was never without a source of water.
While clearing out his father's beloved workshop under the house, Steve discovered a bullet-holed clipboard from when Fred unwittingly drifted into a battle in the Bay of Bengal, and a prized long-lost saw Fred had brought with him when he'd emigrated from Britain many decades earlier. Steve has had the saw restored as a memorial to his dad.
"He just loved his tools, and his workshop."
Now 88 and slowing down, Hazel has made the difficult decision to move into a smaller place on her daughter's property at Silverdale.
"She wanted to stay here until the end but the place got a bit too much for her," says Steve.
Steve and Jeff are planning a last, long, night around the bar to give the house the send-off it deserves. "It's really, really hard to let it go," says Steve. "We're all so sad, but it doesn't feel the same now, without Mum and Dad here."