20 HERBERT RD, MT EDEN
SIZE:
Land 1247sq m, house 208sq m.
PRICE INDICATION:
CV $1.65 million. Auction May 22.
INSPECT:
Sat/Sun/Wed 2-2.30pm.
SCHOOL ZONES:
Balmoral School, Mt Eden Normal Primary, Epsom Girls' Grammar, Mt Albert Grammar.
CONTACT:
Robyn Preece, Barfoot & Thompson, ph 021 936 080.
FEATURES:
Substantial four-bedroom villa in Res 6A zone with beautiful original features, studio and double garage on large level site in a quiet street.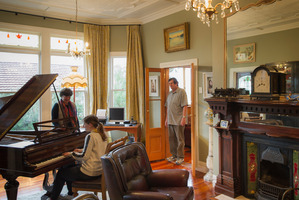 Artist John Horner sought sound advice from a friend before convincing his partner, Jeanette Hayward, they should pay a premium for this robust Mt Eden villa.
In the 22 years they have lived here with their daughters Jane, 24, and Rosalind, 22, the couple has not had a single regret about what has been a brilliant family home and an excellent investment.
Jeanette was "busy having babies" so left John, a well-known Auckland artist who has taught at Whitecliffe College of Arts & Design for 30 years, to house hunt when they decided in 1991 to move from a small bungalow in Mt Albert.
It took John six months of solid searching before he found this four-bedroom villa in what is still a quiet Mt Eden street zoned for Epsom Girls' Grammar and close to excellent city bus routes.
Sir Edmund Hillary's maternal grandmother built the classic 1908 villa, which retains beautiful original features including immaculate pressed ceilings, tight matai flooring, kauri joinery and a striking return veranda.
When property developer and rich-lister Ted Manson owned the house in the 1980s, he did a substantial but sympathetic renovation. This included adding at the rear of the house a kauri-panelled, farmhouse kitchen, which is still large by today's standards, built-in storage in several rooms and a double garage.
Manson also repiled the house, dealt to the scrim and renovated the large main bathroom, which still has its magnificent original bath with gold-coloured clawed feet.
"The house was just better than anything I could have hoped for," says John. "It was a beautifully restored home that we could move straight into and start living in while our girls were still babies, with the bonus of a studio where I could paint."
"We just sat round congratulating ourselves for months," says Jeannette, who loves the house so much it's taken her two years to psych herself into selling it.
Jeannette and John's alterations have included converting a room near the kitchen that once housed a spa into a guest bedroom with en suite. This large, sunny room opens off the end of the central hall and to a large back deck which they also built after removing a small swimming pool.
The house is perfectly positioned on an enviable 1247sq m of level land that faces north and looks straight out to the Sky Tower, with a decent glimpse of Mt Eden.
Three of the four bedrooms, including the large master with generous built-in wardrobes, open off the main hall, as does the large bathroom, a practical separate laundry and the formal lounge.
A door from this elegant room which, like the rest of the house, is a showcase for antiques, artworks and John's paintings, leads to a welcoming family room that has a large, open fireplace and adjoins the kitchen.
The wide back deck is an excellent entertaining space and steps down to a flat back lawn with John's studio and Jeanette's vegetable patches tucked neatly to one side behind the double garage.
The garden also has productive fruit trees.
Although Jeannette and John are loath in some ways to leave the home they, and their friends, have loved, they are ready to downsize and travel more after John retires this year.