60 KAURI RD, AWHITU
SIZE:
Land approx 11.41ha, house approx 160sq m + deck + 3 studios.
PRICE INDICATION:
Marketed with price $995,000.
INSPECT:
Tomorrow 12-2pm, May 12, 12-2pm.
SCHOOL ZONES:
Awhitu District School, Waiuku College.
CONTACT:
Patricia Fenton, Barfoot & Thompson, ph (09) 235 0880 or 021 836 242
FEATURES:
Diverse organic lifestyle block with four-bedroom, two-bathroom farmhouse and three studios with en suites. Features a little beach and wide views over Manukau Harbour. Income streams include fresh produce and preserves, farm-stay guests, timber, tours, workshops and grazing.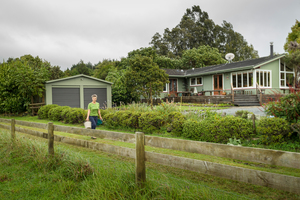 Two middle-aged career women left leadership positions and city life 21 years ago, establishing this diverse organic lifestyle block called earthtalk@awhitu.
Their Awhitu property with farmhouse, on the peninsula stretching northwards from Waiuku, has multiple income streams including orchards, accommodation and timber plots. It bathes in Manukau Harbour views, stretches down to a little beach and is partly bounded by a stream.
"An organic oasis on a giant sand dune" is one of the ways it's explained by passionate owners, Charmaine Pountney and Tanya Cumberland.
The satisfaction this lifestyle has given them is unmistakable.
Charmaine describes herself as a lifelong learner and teacher. Her past roles included principal of Auckland Girls' Grammar School, principal of Hamilton Teachers' College and founding dean of the University of Waikato's School of Education. Partner Tanya's a geographer by training with a love of the land, who went into social work for 20 years before embarking on this organic adventure with Charmaine.
Tanya explains, "We were both urban dwellers, both working on change in big organisations. I got restructured out of my job and decided what I wanted to do with the next part of my life was work with the land."
They wanted a smallholding that hadn't been soaked in chemicals, within driving range of their Auckland networks. An affinity with one of the leaders of the Ngati Te Ata people, Nganeko Minhinnick, helped them home in on this area. They bought here in 1992 from an elderly farming couple who grazed steers and never sprayed.
"It had huge potential," recalls Charmaine.
Originally a bare block with some old pines, it has been completely transformed using a permaculture design plan by Kay Baxter of Koanga Gardens. With the help of WWOOFers (Willing Workers On Organic Farms), their diverse coastal topography now produces about 1600kg of organic fruit yearly, including subtropicals.
They have poultry, make preserves and produce organic vegetables, nuts, herbs and heritage weaving flax (grown in conjunction with local Maori).
They've regenerated with natives, planting covenanted native forest - earning carbon credits - plus native and exotic timber plantations. Further income comes from selling organic preserves, leasing paddocks to neighbours for grazing and offering tours, workshops and farmstay accommodation.
They extended the sun-soaked 1970s weatherboard home and added a deck. The large open-plan living-dining-kitchen area they created easily welcomes sizeable groups under its beamed ceiling. Four good-sized bedrooms (one currently an office) accompany two bathrooms, a toilet, laundry and a store area bountiful with organic produce.
There are three one bedroom-one-bathroom studios nearby. Pohutukawa Pl boasts dreamy sea views and a pohutukawa-painted floor. Timber from their land upgraded Banana Bungalow, which was once a homebrew drinking den. Kettlewell Cottage was built for Tanya's late father, Professor Kenneth Cumberland CBE, the well-known geographer and writer-presenter of TV documentary series Landmarks, who lived here for six years.
It's a fascinating place to wander gardens and walkways dotted with restful seats. The pair established a small lake with wetland area.
Lush plantings include banana plantations, subtropical pawpaw, sugar cane, cherimoya and macadamia.
Tanya loves "working flat-stick all morning then going down to high tide and diving into the water".
Charmaine and Tanya envisage many exciting new projects for earthtalk@awhitu. Charmaine says, "But we simply haven't got the puff left to do them ourselves." Tanya adds, "We know it's important for us to design the next stage of our lives, closer to the city."
Many people comment on the nurturing, restorative properties of this place, which you can experience yourself tomorrow or in a fortnight at their open homes, which include guided tours.