12 CAMERON ST, ST MARYS BAY
SIZE:
Land 581sq m, house 302sq m.
PRICE INDICATION:
CV $2.5 million. Expressions of interest close April 24 at 4pm.
INSPECT:
Sunday 12-12.30pm.
SCHOOL ZONES:
Ponsonby Primary and Intermediate, Auckland Girls' Grammar and Western Springs College.
CONTACT:
Anna Copeland, Unlimited Potential, ph 021 800 669.
FEATURES:
This rebuilt villa in St Marys Bay offers harbour views, large bedrooms and spacious open-plan living opening on to a deck and pool. High stud, designer kitchen, and double garage *plus two off-street car parks.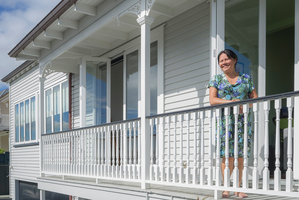 Working from home was a key consideration when June McCabe embarked on a rebuild of this grand villa in St Marys Bay.
Her home office is the base for her diverse career portfolio, which includes consultancy and mentoring executive roles, and board positions. Previous roles include being a senior executive at Westpac and board member at TVNZ, ACC and Housing New Zealand. She also co-authored Woman2Woman, aimed at mentoring and inspiring women in their business careers.
"I have three passions: advancing women in senior positions, building New Zealand's leadership capabilities, and Maori economic development."
June bought the home, which has views over the city, harbour and bridge, and across to Rangitoto Island, about nine years ago.
"And then I left Westpac in 2006, so the idea was to create a work-home lifestyle.
"When you get to a certain age, by your 40s or 50s, you tend to have more diversity in your career.
You find things are driven from the heart, while being mindful you have to earn money."
It was important for June to be close to good schools for her son George, now 13, and to have a workspace with an external entrance and off-street parking.
Being near Ponsonby Primary, the CBD and motorways to the airport, St Marys Bay was an ideal location.
Though the villa had been extended by previous owners, June's vision was to open up the layout. "I wanted to modernise it for a contemporary look and add to its entertaining value."
June managed the project, which included excavating under the house to add office space, working with builder Graham Mauger. Resene 'Black White' was chosen for the interior walls to add to the sense of space, and the kauri floors were stained chocolate brown. She particularly appreciates the 4.5m stud and the lighting selected by Alvaro Calderon, now at Modus Architectural Lighting, which includes a dynamic, modern chandelier that hangs in the new stairwell leading down to her office.
The work started in February 2008. June and George moved out in March, returning in December.
The house has two main front bedrooms situated near the classic front door, with stained glass windows. Then there's June's bedroom, with its en suite and walk-in wardrobe on the right, and George's bedroom - which could also be a lounge - on the left, with bifold doors to the side veranda. There is another bedroom, the laundry and a bathroom, and beyond them is an open-plan kitchen, lounge and dining area.
"The kitchen is my flagship, my pride; it's a wonderful entertaining kitchen," says June.
You can fit a lot of people around the 4m long CaesarStone island bench, and June says the Gaggenau double ovens make cooking a pleasure. A small fridge built into the bench at the deck end of the room means visitors can help themselves to refreshments before heading outside to the pool.
Back in the hallway, the new stairwell accesses June's office, with bifold doors out to a terrace, a bathroom and double garage.
"I was mindful that I wanted a separate entrance. I come down to my working world; I've separated the two but they're also connected."
With George now at boarding school and just Bingo the cat for company, June is selling.
"It's kind of lonely. I rattle around in it. It's definitely a house for entertaining - it's very much an executive couple's home."