365 HOLMWOOD DRIVE, NGAHINAPOURI
SIZE:
Land 1.7ha, house 380sq m.
PRICE INDICATION:
CV $1.125 million. Auction May 9.
INSPECT:
Sunday 3-3.45pm.
SCHOOL ZONES:
Ngahinapouri School, Melville High School.
CONTACT:
David Cashmore, Bayleys, ph (07) 834 3801 or 021 943 305.
FEATURES:
A spacious 13-year-old home on a lifestyle property bordering a golf course at Ngahinapouri, 20km southwest of Hamilton's CBD. The property features a tennis court, spa pool, a pond, lawns and gardens, and a choice of outdoor entertaining areas.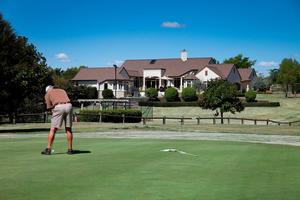 At the eighth tee of a Waikato golf course, Trish McBride found a house.
The keen golfer was playing a round with her brother when she spied a house bordering the Ngahinapouri Golf Course, a 20-minute drive from Hamilton's CBD. "Oh my God," she said. "That's my dream home."
It was a large, elegant and modern home that opened out on to an expansive lawn and garden, overlooking the rolling green course and with views of Mt Pirongia.
At that stage, it was the kind of house to be admired from a distance. Though the born-and-bred farm girl had a hankering to move out of the Hamilton suburbs to a rural lifestyle property, the house at the eighth tee wasn't on the market.
Not long after that, Trish began considering a change more seriously and began looking for a suitable private property close to Hamilton with a quality home. She'd spent many years travelling for work and, after living in hotels for extended periods, she yearned to have space for herself and her chocolate labrador, Buddy.
After a fruitless search she began wondering if she would have to build to get what she wanted.
Then her brother rang to say he'd seen the golf course property advertised in the paper. Shortly afterwards, Trish was driving down the long sweeping driveway for a look. "When I walked in I thought, 'I'd love to live here'," Trish says. "There was nothing else of this quality around. I liked the space and the sheer beauty."
With a few weeks, it was hers. "When the right property comes along, you have to jump."
She likes that it has plenty of room - with four large bedrooms (including a private master suite and a guest wing with its own terrace), as well as three living areas and an office - but it doesn't feel cavernous. Designer Tanya Lea-Hunter split it into three wings, so Trish has a choice of spacious and cosy spots to work and relax in, according to the time of day, the weather and her inclination.
Its size came in handy a few months ago when it effortlessly hosted 50 people for a family reunion.
Trish also likes the aesthetics of the home, with its Hinuera stone features, high vaulted skillion ceilings lined in rimu, and soft paint colours. "It's just a beautiful house to live in."
After nearly four years there, Trish concludes it's the perfect compromise between city and country living, with a supermarket only a 10-minute drive away, golfing friends popping in for a cuppa between holes, and friendly neighbours who respect each other's privacy but are all there for each other.
When Trish's house alarm gets triggered accidentally, she fields several phone calls from people checking on her.
And though she works from home, Trish doesn't feel hemmed in. When she needs a break she can call someone for a game of tennis on her flood-lit court, do a spot of gardening or go for a walk around her grounds, with their native-bush walks and pond.
"It's amazing that if you feel like going for a walk you don't even have to leave the property."
With a bit more time on her hands, she can grab her clubs and stroll on to the golf course, with or without Buddy by her side.
After a happy few years, Trish has decided she's ready for another change. She plans to move back into town, to a smaller place, with the goal of buying a motorhome and exploring New Zealand.
"I'll miss this house but life goes on - and who knows what's ahead?" she says.