THE DARE HOUSE, 664 SOUTH TITIRANGI RD, TITIRANGI
SIZE:
Land 1262sq m (approx) house 184sq m including garage (approx).
PRICE INDICATION:
Interest expected from the CV of $650,000. Auction May 1 (unless sold prior).
INSPECT:
Sat/Sun 10.30-11.15am.
SCHOOL ZONES:
Titirangi School, Glen Eden Intermediate, Green Bay High.
CONTACT:
Blair Haddow, Bayleys, ph 021 544 555.
FEATURES:
Architect-designed 1970s residence completely made over with new kitchen and bathrooms. Multiple decks and outdoor areas in a landscaped subtropical setting.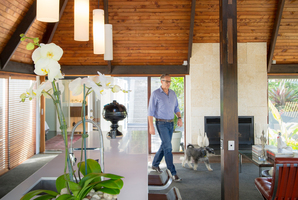 With its grouping of three pagoda-like pavilions surrounded by subtropical plants, the Dare House is also known as "Balirangi" among friends of Jono Sagar and Neil Sparksman.
It's a name that Jono enjoys because it captures the spirit of what he and Neil have tried to create with a complete makeover of the garden and a renovation of a home designed by architect Simon Carnachan in the 1970s.
With the help of garden designer Jules Moore, the couple has created a subtropical setting around the home that includes paved outdoor areas, a water feature and built-in seating.
"We've lived in Asia a lot so we wanted to make it pavilion-like; like a resort," says Jono. "It's an amazing house in summer because you can throw all the doors open and use every space."
Jono and Neil bought the property about four years ago when they became intrigued by the home's design - what they could see of it through a blanket of wisteria.
"We bought it for the architecture," says Jono. "We were living in Ponsonby at the time and we thought we could do a number on the house."
The three pavilions are staggered in a line and tucked down into the slope of the section, with the carport at the top. Beneath that is the master bedroom in its own pavilion with new en suite and walk-in wardrobe. It links with the main pavilion and opens to a sheltered, luxuriantly planted courtyard garden. The pagoda-like rooflines are emphasised by the steeply pitched long-run roofing meeting to form "Canterbury prickles".
The courtyard garden is terraced and flows around the northern and eastern sides of the main pavilion, which is two-storeyed and has decks upstairs and on the ground level. This outdoor space provided the perfect setting for Neil and Jono's civil union, with guests mingling outside and a DJ set up in the master bedroom.
"It's the sort of house that lends itself to that kind of thing," says Jono. "We've had parties with 200 people here and a DJ up on the deck."
With the help of Martin Hughes Architecture Interiors, Neil and Jono refreshed the house, something that was long overdue. Jono says the home had been poorly maintained and the original aesthetic had been obscured when the home was "gentrified".
"There was all this fiddly stuff added and we found that the more we stripped it back the better it became."
Part of that stripping back included removing a mezzanine floor in the main lounge to show off the towering cathedral ceiling.
The kitchen is tucked into one corner, with the cabinetry artfully arranged around a picture window, one of many in the room that provide bush and harbour views. Double French doors open to east- and south-facing cantilevered decks with horizontally slatted balustrades that reinforce the Oriental feel.
"We sit out here for drinks in the evening and you feel like you're sitting in the treetops," says Jono. "And it's very private; we've got neighbours around us but you really don't know they're there."
From the lounge, which has an open fire, you can move downstairs via a tower with a spiral staircase that sits on the west side of the house. This lower level has also been made over with a new bathroom and laundry, in addition to two bedrooms and a living room.
Neil and Jono had decking added to this level to create a relaxing self-contained space for guests. On this level, the garden merges with a bush backdrop, providing plenty of room to roam for the couple's schnauzer, Harry Winston.
With their business interests taking them overseas more often, Neil and Jono have decided to sell and buy an apartment in the city.
"It will be sad to see it go," says Jono. "And some of our friends are really upset. They are saying, 'Oh no, we are losing Balirangi'."