24A WILLIAM DENNY AVE, WESTMERE
SIZE:
Land 462sq m, house 246sq m.
PRICE INDICATION:
CV $1.04 million. Auction April 24.
INSPECT:
Sat/Sun 12-12.30pm.
SCHOOL ZONES:
Westmere School, Pasadena Intermediate, Western Springs College.
CONTACT:
Blair Haddow, Bayleys, ph 021 544 555.
FEATURES:
*Off-street parking for three cars. Award-winning home, featured in several magazines, designed by architect Andrew Lister. Contemporary design with multi-use spaces, including a large workspace/studio. Beautifully landscaped garden.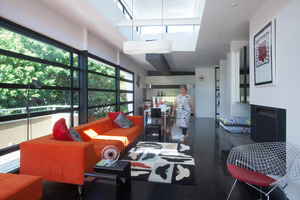 Glass artist Liz Sharek has never lived in the countryside before, but she's excited about her upcoming move from Westmere to a 1ha property in Matakana.
She loves her Andrew Lister-designed home in William Denny Ave, and the neighbourhood, but she's looking forward to a change of pace at her new home, which has also been designed for her by Andrew. "If you are going to build, build the best you possibly can," she says.
Liz is a cast glass and porcelain artist who exhibits at Masterworks Gallery. She had been living in Kingsland before purchasing this subdivided section behind a traditional Westmere home in 2000. Her house was built over the course of 2001, and she was in by Christmas that year.
In 2002, this home won a bathroom of the year award, a local NZIA award, and was a finalist for a local design magazine's Home of the Year award, recognised for its beautifully composed sculptural quality. The following year it garnered a national award for architecture from the NZIA.
The house is so well-designed that in the years since, the only thing Liz has changed is the addition of a skylight into a void above the deck so that it can be used in all weathers.
The house is rectangular in its footprint, stretching down the length of the site. Downstairs is Liz's studio - a generous, fully plumbed room with three-phase power where Liz used to have her kiln. This space could be easily adapted as another bedroom or set up as a workshop. Also downstairs is the laundry and the home's third toilet.
Upstairs, a glamorous high-gloss kitchen opens on to an open-plan dining and living room, where shoji-style windows flood the space with natural light. A "pop-up" ceiling above the living area, with clerestory windows, enhances the feeling of spaciousness. An open fire in the living room adds ambience to winter dinner parties. "This house is great for entertaining," says Liz. "But it's also great if it's just one or two people at home."
Liz loves her home's space, light, privacy and green outlook. "It's almost like living outside but you're somehow enclosed and, of course, comfortable and warm in the winter time."
Green views are "borrowed" from neighbours' gardens, while Liz's own lush subtropical garden with a pond is designed to be enjoyed when viewed from the deck above. She has a vegetable garden on the other side of the house, and admits she has "run out of garden" to develop so is looking forward to her 1ha in Matakana.
Back inside, alongside the main living area, is a multifunctional space - a media room/office/library with its own bathroom. This space, with Netti & Gee feature wallpaper, can be closed off with large sliders to create a second bedroom.
"This is a very flexible space. There are no boundaries," says Liz with a smile. The sliders are covered in blackboard paint and Liz has retained a lovely chalk illustration drawn on one of the doors by a visitor.
Liz says the level of detailing in the house is "extreme". She points to how the thick-profile, dark-stained pine floorboards in the open-plan kitchen/dining and living room line up precisely with the macrocarpa floorboards outside on the deck.
"You do appreciate living here over time," says Liz. "Everything works so well."
Her bedroom is decorated with original 1970s wallpaper, which she sourced from This is Not a Love Shop. Her award-winning en suite, cleverly contained within a compact space and with a skylight ceiling, also has a touch of the 1970s, thanks to its vintage glass mosaic tiles.
It's a beautiful house and Liz has really enjoyed her dozen years in this work-of-art home, but her next adventure beckons.