Agents seek expressions of interest in prime waterfront land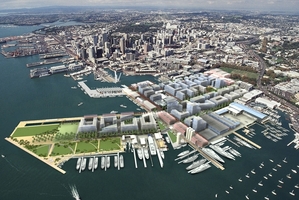 Waterfront Auckland has appointed the selling agent and financial consultants to advise on the selection of private sector parties who will participate in development opportunities for about $1 billion of private investment into Auckland Harbour's Wynyard Quarter.
Colliers International is the selling agent and Rothschild in Australia and Cameron Partners in Auckland are the financial advisers. The firms will jointly handle expressions of interest in the development of the prime waterfront land, arguably the best construction sites in Auckland and New Zealand. Expressions of interest under Stage One will close next month on May 14.
Waterfront Auckland this month announced the process to form investment partnerships in the development of the first parcel of 3.25ha. It includes plans for a hub for innovation and technology start-ups, residential units and a five-star waterfront hotel.
John Goddard, international sales director at Colliers International, says private sector investment opportunity will enable Waterfront Auckland to deliver the staged development of former semi-industrial land at Wynyard Quarter.
"This unprecedented development planned for Wynyard Quarter is New Zealand's largest urban regeneration project outside of the Christchurch post-quake reconstruction," Goddard says. "This is a unique opportunity that will allow private investors to help shape Auckland's future, on a scale not offered to the open market in many years."
John Dalzell, chief executive of Waterfront Auckland, says the council-controlled organisation will be considering a number of different possible development and investment partnership structures. The process will involve parties taking long-term ground leases from Waterfront Auckland, which owns the freehold interest in the sites. The structures may form development agreements, or alternative arrangements and structures with a number of parties. Waterfront Auckland will retain a role as master planner of the developments.
"Finding appropriate private sector partners which share our philosophy and vision to create authentic and vibrant waterfront spaces will no doubt be challenging, however we expect competition will be strong," says Dalzell.
"We will consider expressions from all parties, with the aim of finding the right development and investment partners to come on board. We want partners who are as passionate about the potential for the waterfront as we are.
"This is a once-in-a-lifetime opportunity to invest in one of the last remaining prime CBD waterfront sites in New Zealand. Private investment partners are essential to making it happen. The sheer scale of the development we are undertaking means it cannot be solely ratepayer or taxpayer funded," Dalzell says.
The first phase of the urban regeneration of Wynyard Quarter was the Jellicoe Precinct, opened to the public in August 2011. This included public spaces and infrastructure that helped attract private investment and capital such as the move of ASB's headquarters to the area and the development of the North Wharf hospitality precinct. More recently, Fonterra has announced its new global headquarters will be built at a Viaduct site.
This tranche of privately funded development in the next phase of Wynyard Quarter's regeneration will include the block bound by Jellicoe, Madden, Halsey and Daldy Sts, to be known as Wynyard Central.
Comprising around 15ha of gross floor area designated about one-third commercial and two-thirds residential, Wynyard Central will include office space within an "innovation hub", a residential development and an international hotel.
The innovation hub is aimed at providing a "high-tech innovation cluster" within an area of between 1.2ha and 1.4ha. The precinct will include office space and is being developed to attract new and emerging information and communications technology (ICT) and digital media businesses, alongside more established companies, with the aim of rapidly expanding the local ICT sector and building on the success and growth already achieved by New Zealand high-tech companies.
The hub is expected to house 3000 workers.
"The innovation precinct will position Auckland as a centre for high-tech companies, research and development. It will bring together resources, connections and opportunities; and provide an 'incubator' environment to nurture tech businesses," says Dalzell.
The Auckland waterfront is pivotal for the council's future vision for Auckland, says Dalzell.
"Our vision is to deliver a world-class waterfront. We want Wynyard Quarter to be an example of superbly designed, sustainable urban transformation that attracts investors, businesses and residents. We aim to highlight Auckland as a smart global city, while delivering an enhanced waterfront for all Aucklanders through drawing on global best practice."
The proposed development of the waterfront ties in to Auckland Council's vision of making Auckland the world's most liveable city, Dalzell says.
"An important element of transforming Auckland into the world's most liveable city is re-connecting residents and visitors with the waterfront by transforming it into a high-quality mixed-use residential, retail, office and hospitality area - along with connecting the waterfront with the adjacent CBD and showcasing sustainable design."
The planned redevelopment is expected to take place over 20 years, directly supporting 20,000 new full- time jobs in Auckland as well as contributing indirectly to the creation of an additional 20,000 jobs across the region, says Dalzell.
"The Auckland waterfront is expected to become a key economic driver for the city in the future. It is forecast that by 2040 the waterfront redevelopment will contribute over $4 billion to Auckland's economy."
Office space in the first stage of development, within historic marine buildings being refurbished, is now available for lease through Colliers International.
About 600 to 800 apartments and townhouses, housing up to 1500 people, are planned as part of a mixed-use residential development. The dwellings will offer residents a prime location and views and will feature high quality sustainable design, private courtyards and ground floor retail space.
A 5500sq m site on the western edge of the Viaduct Harbour has been earmarked for a five-star hotel, offering a prime waterfront accommodation location.
Duncan Wilmer, head of real estate for Australasia and South East Asia at Rothschild in Sydney, says Auckland, and New Zealand as a whole, provide very strong fundamentals that underpin the viability of investing in the city's waterfront.
"New Zealand presents overseas investors with a stable political and regulatory environment and no capital gains tax or stamp duty, with the country ranking highly globally in terms of investor protection, lack of corruption and ease of doing business," Wilmer says.
"New Zealand also ranked first in the world for protecting investors last year according to the World Bank, and was first on Forbes magazine's 'Best Countries for Business' list in 2012."
Wilmer says Auckland is New Zealand's largest commercial centre and wealth creator, provides an estimated 35 per cent of New Zealand's gross domestic product (GDP) and is home to more than 60 per cent of the country's 200 biggest companies.
Goddard says further benefits of New Zealand as an investment destination include a transparent real estate sector; favourable long-term economic indicators; solid long term returns with low volatility; high-quality, good-value assets and a property market that is emerging from the bottom of the cycle.
Auckland's population is also growing faster than any other New Zealand centre and is projected to increase by an extra one million people by 2040, by which time the city will house around 40 per cent of New Zealand's population.
"This population growth will trigger demand for around 400,000 new dwellings and many new business premises," says Goddard.
"An increased demand for prime office space is expected as Auckland CBD consolidates its position as New Zealand's business hub."
Tourism activity in Auckland is also expected to grow over the next five years, increasing the demand for hotel rooms.