1 SPRINGFIELD RD, WESTERN SPRINGS
SIZE:
Land 612sq m (approx), house 220sq m (approx).
PRICE INDICATION:
Buyer feedback has been $1.3 million to 1.5 million. Auction on site, April 11 at 2pm.
INSPECT:
Sat/Sun 1-1.45pm.
SCHOOL ZONES:
Mt Albert Primary, Kowhai Intermediate, Western Springs College, Mt Albert Grammar, Auckland Girls' Grammar.
CONTACT:
Andre Bodde, Barfoot & Thompson, ph 021 662 873.
FEATURES:
Turn-of-the-century two-level villa has been enhanced by addition of studio, outside bathroom, heated pool and landscaped garden under watchful eye of architect Briar Green. Choose to have four bedrooms or three bedrooms and extra living space.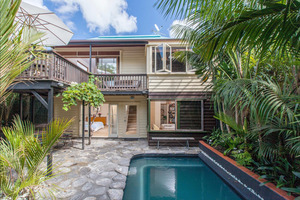 "What I like about our home," says Donna Kofoed, "is that it feels like a resort. And it's completely private. I can walk out every entrance and not be seen."
Donna and Rick Kofoed bought this early-1900s Western Springs villa in 2000. Rick liked the home instantly, especially the fact its open design wasn't cut off by a central hallway, unlike in many other villas.
Owners over the years have included cricketer Martin Crowe and Webb's auction-house chairman Peter Webb, who had maintained and upgraded the villa's original structure.
The Kofoeds' intention was to add a studio in the garden, and create a better living and working environment for themselves and children Matt and Renee, plus their adorable little Brussels Griffon called Wattie.
Their project wasn't about the exterior - more about using the interior space better. The result is a property that is all about a sequence of places.
The Kofoeds commissioned architect Briar Green, whose work they admired.
Briar felt the house had a good scale but its appearance was like that of an empty art gallery with little natural light, and needed more detailing and warmth.
The aim was to marry the new studio to the existing home, knitting together the elements of architecture and garden as well as light, shadow and space. Briar would insert versatile and useful spaces while working within the restraints of a narrow site.
"A lot of additions and alterations are added on, while I prefer to insert them," she says.
In the main upstairs living areas, sliding panel doors allow more light and access to the existing deck, bringing in the view of the garden and heated pool. A detailed wooden screen beside the stairs and a light panel near the deck add warmth and interest.
A bedroom's bay window was pushed out towards the pool, and bathrooms were tiled. Versatile spaces can be used as bedrooms, or family or TV rooms; a corner room is devoted to being a theatre - a great place to be on a rainy Monday with a couple of DVDs, says Rick.
And the kitchen has been opened up from what was a boxy space into an interesting corner with a quirky slot-in-the-wall entrance; the lowered ceiling insertion adds a sense of intimacy without cutting off the kitchen from the open-plan area. Coconut-shell bench tops add textured contrast to the other benches of stainless steel.
Out in the garden, Briar's studio design can be compared to "living on a veranda". Its function as the Kofoeds' workspace allows them to "go out to work", distancing themselves from their home. But it can also be used for the many configurations of modern-day family accommodation - think teenagers, in-laws or other visiting guests.
The studio and additions wear their 10 years well. "I think part of the charm with buildings is how they age," says Briar. "It's an old job for me now but it's one I'm very fond of.
"The whole thing has a slightly Pacific/Oriental quality, which is another way of interpreting a colonial villa."
Rick says Briar has designed a wonderful place with a lot of feeling and heart. The architecture industry also recognised the integrity of Briar's work when she won "small project architect" in the 2008 New Zealand Architecture Awards.
The home has served this family well, but now that Matt and Renee have left home it is ready to welcome the next chapter of its life.