30B SPENCER ST, REMUERA
SIZE:
Land 562sq m (approx), house 306sq m (approx).
PRICE INDICATION:
Similar properties have sold in the high $1 millions. Auction on site March 27 (unless sold prior).
INSPECT:
Sat/Sun 1-1.30pm.
SCHOOL ZONES:
Victoria Avenue School, Remuera Intermediate, AGS, EGGS.
CONTACT:
Steen Nielsen, Ray White Remuera, ph 520 7661 or 0275 578 336.
FEATURES:
Cedar weatherboard home designed by architect Jane Aimer to take advantage of sun, light and views from its elevated position. Extensive outdoor living including pool and spa.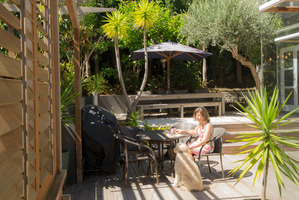 Harlequin romantic comedy writer Adele Little knows purchasing this architect's own home wouldn't have stacked up as a plot line for one of her novels. Adele's 21st book, Jane's Gift, comes out soon under her pen-name, Abby Gaines. So she's well qualified to say buying here didn't involve enough romantic conflict between her and husband Nigel to create the tension and excitement her genre's storylines revolve around.
Any potential for house-hunting disagreement evaporated in 2007 when they saw this cedar weatherboard home, conceived about 11 years earlier by architect Jane Aimer of Scarlet Architects. She'd designed it as her own home, making the finals of NZ Home & Entertaining magazine's 1999 Home of the Year awards.
The Littles appreciated the clever design, offering sunny living whatever the time of day. Adele says, "Nigel's a morning sun person and I'm an afternoon sun person - but you get both here so we've both been very happy!"
This location is"double Grammar zone" and their children have gone to Auckland Grammar School and Epsom Girls' Grammar.
Adele had initially been attached to the idea of an older home. "But we fell in love with the fact that this had a lot of enduring character despite being quite a new home," she says.
Some of that character stems from jarrah floors, timber joinery and interesting roof lines, varying from gull-winged to arched. The house's elevated position on a ridge between Victoria Ave and Portland Rd delivers varied views, including Mt Hobson and round past Hobson Bay.
The home's surprisingly spacious layout tops 300sq m across three levels. That has given Adele headspace to write some 16 books. And that's while living here with Nigel (who works for Fonterra), three children, their labradoodle and cat, and with Nigel's father Jack often in-house.
"I always feel like I'm on holiday here because I look out and see the courtyard and the trees and the pool and feel like I'm in Bali or somewhere."
She's sitting in the kitchen-dining-family room, which flows out to decks and al-fresco dining by a sculptural olive tree. "It's so sunny and relaxing, but at the same time the house is quite a strong architectural statement."
The couple favour the formal lounge with balcony in the evenings. It's a more defined space with a curved ceiling, extensive bookshelves and a fireplace (backed up by the home's central heating). There's also a sizeable entry foyer, bathroom and laundry on this level.
The room off the upstairs master suite could alternatively be a nursery but has been a study for Adele, who's also communications manager for the New Zealand Breast Cancer Foundation. The master has electronically controlled exterior shutters, a capacious headboard storage unit bolstering its petite walk-in wardrobe and a burst of colour in paprika and citrus en-suite tiles.
There were already three bedrooms and a family bathroom on the lower level before the Littles extended with an Aimer-designed bedroom and set up a downstairs teenage lounge. Therefore, the home can be configured as four or five bedrooms in total.
Downstairs opens out to spacious decks with a glistening pool and spa, stepping down to a patch of lawn. "Our kids used to pitch a tent out here in summer," says Adele. There's an internal-access double garage and an off-street parking bay.
Now son Jasper is studying overseas, the family think the time's right to move nearer to their Mt Roskill church. They're there quite often, partly because that's where Adele teaches English as a second language.