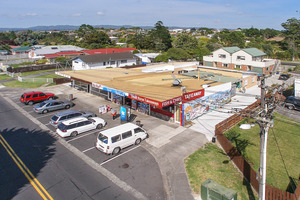 A freehold standalone suburban strip comprising four retail units, three self-contained flats and two modern townhouses at 93-95 Vodanovich Rd, Te Atatu, will go under the hammer as part of Bayleys latest Total Property portfolio.
"We have received good inquiry on this multi-tenanted, mixed-use retail and residential investment premises," says Damien Bullick who, along with Bayleys' colleague Alan Haydock, is marketing the property for auction on March 27 unless it sells prior by private treaty.
The block occupies a 1414sq m site on two titles and has a wide frontage to Vodanovich Rd.
Bullick says the recently built townhouses add extra value to the offering and make this property stand out in the market. "While mixed-use properties are not uncommon, this one is special because of the two three-bedroom-plus-garage townhouses, which are nestled away from the road to the rear of the site," Bullick says.
"These were built in 2006 and offer spacious two-level accommodation with two bathrooms and generous deck areas."
The retail and residential properties have a total lettable area of about 650sq m, and together return an annual income of about $140,000.
The four single-level suburban shops to the front of the property were constructed in the 1960s with concrete foundations, concrete block exterior walls and extensive glazing to the street frontage.
The shops range from 46sq m to 85sq m and share nine store-front customer carparks.
Bullick says two of the retail tenants - the Central Park Superette and the Smart Horse Takeaways - are long-established businesses on this site, having been there for 13 and seven years respectively.
They have both renewed their leases for an additional five years.
Behind the shops are three adjoining self-contained flats built at the same time as the shops. There is one single-bedroom flat and one two-bedroom flat both to the rear of Shop Four, and a three-bedroom flat to the rear of Shop Two that is included in the tenancy.
"Investors will benefit from the split-risk residential-retail income stream, while owner-occupiers can take their pick of the residential accommodation and reap the benefits of the cash flow this property provides," says Haydock.
"In a nutshell, this is an affordable multi-tenanted investment opportunity in a well-established suburban community with sought-after risk diversification. It's a box ticker for investors and the banks."
The retail-residential block lies off the western side of Vodanovich Rd, adjoining residential houses on the north and south boundaries, and is close to schools and parks.
Central Park Drive runs along the western side of the property while to the northwest is the Lincoln Zone, which caters for a range of light manufacturing and warehousing activities, with retail and commercial activities predominating road-front positions.
The property is handily located to the Lincoln Rd and the Te Atatu interchanges of the northwestern State Highway 16 motorway.