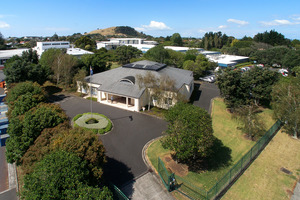 A boutique luxury corporate office block owned by Wrigley NZ in the heart of Mt Wellington's residential area is up for sale with vacant possession.
In a deal that formed the world's biggest confectionery company, Wm. Wrigley Jr. Co was bought in 2008 for US$23 billion ($27.82 billion) by Mars Inc in partnership with billionaire investor Warren Buffett.
A New Zealand consolidation move will bring both companies together on one site with Mars transferring on April 1 from its Manukau office to Building 14 in Goodman's Central Park. Wrigley NZ will also move to Central Park once its Mt Wellington building has been sold.
"This joint relocation will leave Wrigley's previous head office complex at 45 Banks Rd surplus to requirements," says Brian Caldwell of Bayleys North Shore Commercial who is selling the Wrigley property by tender closing on March 28 with colleague Daryl Devereux and Paul Dixon of Bayleys Auckland.
Built for the Wrigley Company (NZ) Ltd in the 1990s, the high-quality, single-level office block stands in park-like landscaped grounds with a large area of parking on both sides. It is on what is primarily a residential connection road between the Ellerslie-Panmure Highway and Barrack Rd and is close to the SH1 Southern Motorway.
Caldwell says its design and character is similar to a large, quality residential complex set in pleasant grounds with mature trees for shade. "Its layout would suit a range of industries from childcare to health or it could continue to be used as company offices for businesses wanting special premises that provide a serene setting for their staff and clients. The property would appeal to any commercial occupants in fact, who prefer semi-residential surroundings rather than being in a defined commercial area.
"While it is located in a small fringe commercial area with a few industrial buildings alongside it, the surroundings are more residential in nature. However, the industrial and commercial areas of Ellerslie, Panmure and Penrose are within a short distance as is downtown Auckland, which is within a 15 to 20-minute drive."
The 586sq m building sits on a 3738sq m site zoned Business 4, which permits a wide range of employment-generating business activities under the district scheme. Caldwell says the building could be easily expanded to accommodate a larger business by extending it on any side.
The property provides a grand entrance through double entry doors to a reception and waiting area that opens to an atrium.
From here there is access to 10 partitioned offices, a board room, staff room, kitchen and staff amenities. The staff room and office areas on the northern side of the building open to a small courtyard.
Sealed parking is provided in two areas. On the western side is the visitor car park of four spaces, which leads to the reception and on the eastern side is a further parking area providing for up to 15 cars plus a disability space. The site is securely fenced.