Reinz is on the move and its base is for grabs, says Colin Taylor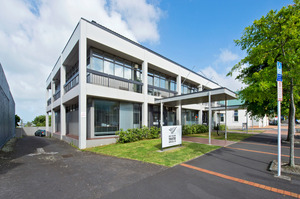 The national head office of the Real Estate Institute of New Zealand (Reinz) in the heart of upmarket Parnell is for sale, with the high-profile site's development potential being highlighted.
The 758sq m, two-storey building sits on a 1813sq m site at 202 Parnell Rd on the main route between Newmarket and the CBD.
"The location offers exceptional naming rights and exposure for a purchasing company seeking brand recognition," says James Chan of Bayleys Auckland, who was runner-up in the best commercial and industrial salesperson category at last year's Reinz national awards.
Chan and colleague Cameron Melhuish are marketing the property via an international tender process closing on April 11.
The site's front portion of about 1207sq m is zoned Business 2 and contains a two-storey commercial premises. Reinz occupies part of the ground floor and the entire upper level of the building, with a lease generating annual income of $187,342 which runs through to 2014 with a further three-month right of renewal.
Part of the lower floor is leased to a trust administration company on a three-year lease earning annual rental of $59,624, which has a demolition clause in place and expires in 2015.
A feature of the sale is the rear portion of the landholding which contains a 606sq m area zoned Residential 7B, allowing for the development of three residential dwellings. A resource consent application for the site was granted in 2009 with a 10-year expiry period.
Real Estate Institute chief executive Helen O'Sullivan says the sale of the headquarters will allow for funds to be reinvested as its membership begins to grow with a general recovery in the property markets.
"Additionally, the asset of the vacant land at rear of the property overlooking Scarborough Terrace, while gaining in capital value, delivers no real income stream for the institute," O'Sullivan says. "The Reinz board, whose members have front-line knowledge of where real estate markets are moving, felt that now was a good time to take advantage of a confident market in Auckland to sell the properties.
"Sale proceeds will be used to purchase new head office premises at some stage in the future in a yet-to-be decided city-fringe location, as well as a commercial investment property. However, that process is some way off and is obviously dependent on the successful sale of our current Parnell location."
Melhuish says there are several reconfiguration options for the regularly shaped Parnell Rd building and land. "With such a prominent street frontage over one of Auckland's premier retail and hospitality hubs, there is the potential to expand the building into a mixed-use retail and commercial premises, with a new parade of shops at ground level and office space above," he says.
"Tasteful landscaping of the street frontage around a courtyard-style layout could result in a park-like setting displaying water features and manicured grass or shrubbery.
"Alternatively, the purely commercial use of the premises could be retained as is - with scope for adding not only more floor space by expanding outward, but also adding value through rejuvenation.
"The building's open-plan interior with high-stud ceilings currently has a 'retro' 1970s-80s feel to it. So with refurbishment, this location could become a very modern workspace surrounded by a vast social infrastructure."
Melhuish says 95 per cent of Parnell's commercial properties are rated as B, C and D-grade stock. Among those is the B-rated Reinz building.
"Any new A-grade stock coming on to the market, such as the new Geyser Building at the city end of Parnell Rd, is quickly being leased," he says.
"The Geyser Building, with its six-star rating through the New Zealand Green Building Council, for example, is now some 78 per cent leased.
"A refurbishment of the Reinz building to an A-grade category could easily deliver similar tenancy occupancy figures."
The rear portion of the corner site with development potential is currently tar-sealed bare land with possible dual access from Denby St and Scarborough Terrace.
The Auckland Council's consent for the residential development allows for construction of a four-storey building with basement car parking, a pair of two-storey dwellings occupying the middle levels, and a penthouse apartment occupying the top floor.
"All three dwellings would have exceptional views out across Waitemata Harbour from a ridge-line elevation," Melhuish says.
"In addition, the residential units would be just a proverbial stone's throw away from Parnell's retail and cafe scene, yet far enough away from that hub to ensure there is virtually no noise from either people or motor vehicles' movements."
Parnell has already experienced the move to modernising its mixed-use retail/residential core, with the construction in the early 2000s of the Nori Japanese restaurant near the bottom of the strip with a multi-storey apartment block above, followed by the block of apartments built above street-level shops near the intersection of Parnell Rd and St Stephens Ave.
"As one of Auckland's oldest suburbs, Parnell retains a considerable amount of heritage and cultural affiliation with the city's historic roots," says Melhuish.
"Consequently any new development would have to be tasteful and enhance the aesthetic attraction of the location."