8 BRETT AVE, TAKAPUNA
SIZE:
Land 1050sq m, house 380sq m.
PRICE INDICATION:
CV $3.95 million. Tenders close April 10 at 4pm.
INSPECT:
Phone agent for weekend viewing times.
SCHOOL ZONES:
Takapuna School, Takapuna Normal Intermediate, Westlake Girls' and Boys' High Schools and Takapuna Grammar.
CONTACT:
Andrew Dorreen, Precision, ph 021 747 334 or DDI 215 0737.
FEATURES:
Five-bedroom Allan Shanahan- designed cedar residence just metres from the water. Salt-water swimming pool, large open-plan living and triple garaging.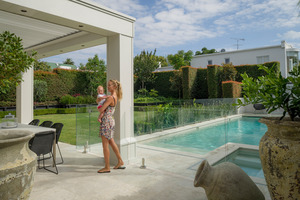 Long before its transformation into one of the city's hip urban villages, Takapuna was one of Auckland's favourite beaches. Swimmers can stretch out on a white-sand beach minutes from the CBD, watching ocean liners cruise past Rangitoto Island.
Residents of Hurstmere Rd's "avenues" have the best of both worlds - metres from the humming village scene and even closer to the ocean action at the bottom of the street. As self-confessed "water-babies", Katherine and Evan knew instantly that their Brett Ave home ticked all the boxes. "We can check out the sea from our office," says Katherine. "If the kites are out, we're gone!"
They knew the house was pretty special, too. Katherine's designer eye appreciated the considered design by architect Allan Shanahan and quality construction by master builders TP Builders. "It's like a fine yacht," she explains. "We fell in love with the timeless character."
The house is only 5 years old, but already a modern classic.
"We could tell original owners poured their heart and soul into it," says Katherine. "No space is wasted and it's super user-friendly." The dark-stained cedar and pitched roof hark back to traditional baches, while touches like crisp white shutters and awnings deliver modern comfort.
Baby Branson is only 5 months old, so doesn't yet appreciate the clever planning and family-friendly spaces. The house has become the preferred destination for family and friends. "Youngsters love the pool and we've even had a bouncy castle," says Katherine of the sunny, sheltered backyard. "It's so private with only one neighbour and all the hedging." Future owners can enjoy the bounty from Katherine's fruit trees, neatly edged with clipped buxus hedges.
Although there are two adjoining living rooms downstairs, Katherine admits people most enjoy the series of covered north-facing terraces. "With heating and the Louvretec roof, we can be outside in any weather," she says. "There are separate spaces for eating and lounging, so it really is outdoor living."
The terrace's travertine marble flooring is part of the palette of quality materials. Katherine added some drapes and decorative touches, but appreciated the thoughtful detailing. The well-appointed kitchen and family room revolves around the rich-grained Emperador marble island and the sunny window-seated breakfast area. "There's storage everywhere," Katherine notes, "even under the seats or tucked beside the wine fridges."
Twin fireplaces anchor the two living rooms, separated by modern timber French doors. A dark textured wall of storage adds drama in the night-time living and dining room. Walls of sliding doors open on to the terraces. "If there's a big game on, we have people watching from inside and out,' Katherine notes.
Visitors are greeted by a soaring double-height lobby and glass bridge. There's also a serene garden guest room and bathroom at ground level. Family-friendly details continue in the full laundry and bathroom, plus the over-sized garage.
Upstairs the four generous bedrooms enjoy charming pitched ceilings and views from glass-fronted Juliet balconies, sharing another marble and stone-clad bathroom, with an additional toilet. Katherine and Evan watch the kites from their front office. Branson's sunny bedroom is next to a bookcase-lined study, overlooking greenery.
Another of Katherine's favourite spots is the master bathroom, beside a well-planned walk-in closet. "It reminds me of a French farmhouse with skylights over the tub," she says, "except it's under a pohutukawa."
Even though the beach and bars are only a quick trot away, Katherine and Evan's love of the sea means they want to move even closer. Their cleverly designed house awaits another family.