12 JUBILEE AVE, DEVONPORT
SIZE:
Land 1045sq m, house (approx) 320sq m.
PRICE INDICATION:
High $3 millions. Tender closes 4pm this Tuesday, March 5.
INSPECT:
Sat/Sun 1-1.45pm.
SCHOOL ZONES:
Devonport School, Belmont Intermediate, Takapuna Grammar School.
CONTACT:
Lance Richardson, Barfoot & Thompson Devonport, ph 021 796 660 or 445 2010.
FEATURES:
Big character home and studio, with renovation by architect Geoff Richards. Light- filled rooms flowing out to verandas, reminiscent of a country homestead. Elevated harbour views, privacy, sustainable features and centrality on a large flat section just above Torpedo Bay.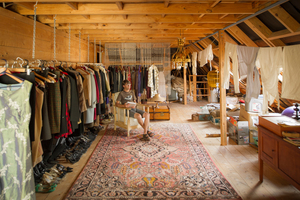 Auckland character houses tend to be either "befores", still made up of drafty, dark little rooms, or reinvented "afters", bursting with mod-cons.
This Devonport dwelling is something else again, extensively renovated, yet still conveying a sense of uncomplicated ease.
Longtime Devonport resident Charmaine bought here about 14 years ago, spotting the potential to create a relaxed family haven.
"Except it was nothing like this then. It'd been converted into flats around the 1920s and was still in four flats when I bought it."
Being a fan of Devonport's diverse bohemian past, she liked the flats' history of legendary parties and the fact that it had lodged everyone from musicians to ladies of the night.
There were other benefits, too.
The property's a short stroll from the village and Cheltenham beaches, tucked away on a quiet avenue just above Torpedo Bay, where it gets elevated harbour views.
"The position is beautiful. Being up here is like being in an eagle's nest, because you're just a bit up and away from everything. It's incredibly peaceful and on a hot day it's still incredibly cool.
"And having the naval museum with its little cafe just below us means you can never be built out."
The large, mainly level site of 1045sq m is great for easy indoor-outdoor living.
It's believed the flats started out as a turn-of-the-century double-bay villa built by a timber merchant. Somewhere along the way, someone put a 1920s bungalow on top and divided the space into flats.
This was Charmaine's third project with architect Geoff Richards, and their renovation removed the upper add-on and heavily modified the interior.
"I wanted a really big, airy house, because I like lots of light," says Charmaine. "The idea was for it to be almost like a big Wairarapa farmhouse, with big verandas and big spaces."
Now beautifully proportioned high-stud rooms flooded with light create a sense of elegance.
Some special features were chosen because they were important to the family, rather than to increase the house's value.
The two massive marble islands in the spacious kitchen, living and dining space were fitted because her family and extended family enjoy socialising while they cook.
The intercom system was practical for independent, older children (including Tobias, pictured) who spread out around a really big house. For sustainability, they chose plumbing with hospital-grade piping, and solid wood.
On the understated street frontage, a tall hedge borders a pedestrian gate and prettily detailed garage, which fits two small cars. The separate front studio could be an office, extra bedroom, music room or a second garage.
Charmaine wanted the house to flow to intimate outdoor spaces, such as the front courtyard with herbs peppered around goldfish ponds,and the big rear grounds.
The interior revolves around a long central hallway. The kitchen-living and dining are by a summery front lounge, rear library, laundry-larder and Charmaine's reading room.
Leadlights and a two-storey turret room with detailed woodwork and a copper cap add charm.
Original match-lining was reused in wardrobes in the three downstairs bedrooms and the family bathroom is clad in tan stone.
Radiators and four fireplaces warm in it winter.
A subtly contemporary floating staircase leads upstairs, where Charmaine's master suite has a dressing room, marble en suite and an office that could be a sitting room or nursery, with views. The big attic could be be converted to rooms.
Roomy rear verandas and a level lawn look out to sunsets daubed with pink and red.
Now her children are leaving home, Charmaine wants to move to a smaller house where she can enjoy gardening.