40 HEPBURN ST, FREEMANS BAY
SIZE:
Land 644sq m (approx), house 430sq m (approx).
PRICE INDICATION:
CV $2.8 million. Tender closes February 28.
INSPECT:
Sun 2-2.30pm, Wed 8-8.30pm or by appointment.
SCHOOL ZONES:
Freemans Bay Primary, Ponsonby Intermediate, Auckland Girls' Grammar School and Western Springs College.
CONTACT:
Jan George, ph 0274 784 119, or Aaron Haabjoern, ph 021 469 226, Ray White.
FEATURES:
Stately, renovated villa in Freemans Bay offers three levels of living with choice of outside areas, and views over the city and harbour. Off-street parking as well as garaging.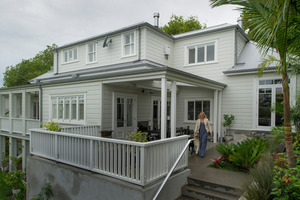 A diamond in the rough. That's what Linda Turner could see when she spotted this 1880s villa for sale in leafy Freemans Bay about six years ago.
The villa was to be both home and project for Linda and partner Mark Turney as they took the heritage building into their care to help it reach its potential. It had been divided into two flats and was looking tired but Linda, with a background in design, could see past that first impression and appreciate how adding top and lower levels would work well on the wide, north-facing site.
They set about enlisting skilled tradespeople to enhance and enlarge the house to 430sq m while maintaining its features. "Even when it was built in the 1880s, it was a substantial home," says Mark. "It is perfectly positioned on the section and gets all-day sun."
"It is one of those majestic homes," says Linda.
Architect John Hill designed the extensions to add value while maintaining the 3.4m stud of the main living areas.
An addition on the lower level can be used as a self-contained apartment and he "popped the top" for a master bedroom suite without compromising the original shape, keeping the street profile intact. "He is a good architect because he listened to our brief and made sure everything connects and is symmetrical but still retains the 1880s features," says Mark.
The villa starts with the traditional layout as you come in, with bedrooms and office off the hallway, leading through to the open-plan living space. A return veranda runs from the front of the house to the bedrooms. Painting the walls with Resene's Joanna, with Rice Cake trim, accentuates the villa's dignity, with the exterior painted in Wattyl Neptune's Wrath blending in with the gentleness of the surrounding landscaping.
The large, open-plan living space accesses the courtyard on the kitchen and double-garage side, with the main lounge area opening to a plantation-style balcony overlooking the tropical garden bordering the lawn. There is resource consent to build a pool here.
The kitchen's scullery windows slide open to the courtyard where the couple eat most meals, and where they host barbecues and a regular December 23 gathering to offer R & R during the pre-Christmas rush.
In the Natalie Du Bois-designed kitchen, reference is made to the villa's heritage with its recycled kauri table-top and legs fashioned out of the home's front veranda posts by Terry Neale Furnituremaker. "We have tried to put back into the house what we took out, by recycling," says Mark. More evidence of this considered approach shows in the kauri used for the three-level central staircase, crafted by Torrington Handrails, and the 250-bottle wine cellar.
Yet while the heritage has been retained, the home offers modern-day living with comforts such as underfloor heating and surround sound in the media room above the garage. The downstairs' bedrooms, bathrooms and living space have their own entrance and outdoor space, ideal for visiting parents, a teenage pad or even extra income. And on the top level, the large master bedroom has a lounge area, private 7m-wide balcony taking in city and harbour views, walk-in-wardrobe and a luxurious bathroom.
The couple have enjoyed living here, making the most of being close to Ponsonby and Auckland's CBD and within walking distance of Eden Park. They are selling because, with Mark's son Ryan in his last year at high school, they are looking for a smaller home and have other projects to move on to.
"We have fulfilled this part of our plan," says Mark. "I think we have reinvigorated this home for another 120 years of living. The project has been a lot of fun."