124 LUCERNE RD, REMUERA
SIZE:
Land 1179sq m, house 257sq m.
PRICE INDICATION:
Homes on the Lucerne Rd ridge have sold in excess of $3 million. Tenders close March 7.
INSPECT:
Phone for viewing times.
SCHOOL ZONES:
Meadowbank School, Remuera Intermediate and Selwyn College. Close to private schools.
CONTACT:
Gary Wallace, Bayleys, ph 0274 988 585.
FEATURES:
*Under-cover parking. Rare opportunity to secure waterfront property on Orakei Basin. Modernist home designed by renowned architect Vladimir Cacala for his own family. Includes pool and self- contained apartment.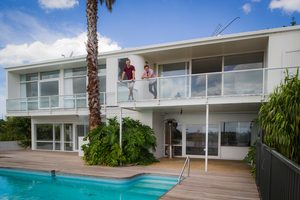 Over the years, HeraldHomes has featured a number of houses designed by the late Czech-born architect, Vladimir Cacala (1926-2007). Like previously featured homes, today's story is about a modernist house built with an impeccable architectural pedigree.
What makes this one especially significant is it's the place that Vlad, a loving father and husband, designed for his family. Now, the Cacalas' beloved home is on the market for the first time since it was built in 1962.
Vlad and his wife Maree's twin daughters, Tanya and Vicki, were toddlers when the family moved in. Vlad had designed the neighbouring house (his clients still live there) and liked the location so much he decided it was where his family would live.
Tanya and Vicki were soon joined by Shas and then the youngest of the four Cacala girls, Liza.
Vicki explains that Vlad and Maree were a tight-knit team, with Maree working as Vlad's secretary for some years.
"Mum and Dad had the same taste and did everything together," Vicki recalls.
"She loved this house. This was always a party house. They opened their doors to everyone. Mum would always be cooking piles of white veal schnitzel and there was always someone popping in for a drink. Friday and Saturday nights there was an open-door policy."
Maree and Vlad loved having their daughters' friends over, too, and were hospitable to everyone. Their kindness also helped dig a big hole.
Maree had always wanted a pool, and in about 1974, Vlad organised one for her birthday. By that stage, the Cacala girls had male friends visiting and Vlad made good use of the brawn on hand.
"They would be given a spade and had to dig. Most of my friends helped to dig dad's pool," laughs Vicki.
The downstairs rumpus room that opened out to the pool was "party central".
There was also a sauna downstairs, as well as a self-contained flat - a feature which Vlad often included in his house designs. Vicki and Tanya moved into the flat when they were in their teens, and later Shas lived there when she was at medical school.
Sadly, Maree didn't live to meet any of her nine grandchildren. She died on June 16, 1983. Although gravely ill, she had managed to see Tanya get married at home on June 8 and be there for Shas' 21st birthday on June 14. "She was amazing," says Vicki, remembering her mother with love.
After Maree's death, Vlad made some changes to the house.
He opted for a white exterior over the original Mondrian-style coloured cladding and painted most of the interior of the house white, a departure from its previous timber panelling. He lived surrounded by art.
In later years, Vlad would often have a gathering of several of his grandchildren here. They would enjoy exploring tracks around the Orakei Basin, returning to eat meals prepared by their grandfather, including his famous roast pork with crackling.
"It was a pretty magical place to grow up," says Vicki's son Sam, 25, who was visiting home from Paris, where he works in advertising. The freezer would always be full of Trumpet ice creams and there would be plenty of fruit jubes on hand.
"It was like a playground here," says younger brother, student Andrew, 21. "We could sleep on the couches. He let us do whatever we wanted."
With three generations' worth of love and history here, it's a wrench to let the house go, but Vicki says it's now time. "It's been such a happy house. Dad was so relaxed here."
The much-loved and admired Vladimir Cacala loved this home so much he never wanted to be anywhere else.