24A ABERFOYLE STREET, EPSOM
SIZE:
Land 501sq m (approx), house 283sq m (approx).
PRICE INDICATION:
Property has CV (2011) of $1.1 million. Auction on site February 27 at 7.45pm (unless sold prior).
INSPECT:
Sat 1-1.45pm, Sun 7-7.45pm or by appointment.
SCHOOL ZONES:
Epsom Normal Primary, Auckland Normal Intermediate, Auckland Grammar School, Epsom Girls' Grammar.
CONTACT:
Linda Galbraith, Ray White Broadway, ph 021 966 028.
FEATURES:
Versatile, architecturally designed house in a private Grammar-zoned setting handy to Mt Eden Village, with relaxed indoor- outdoor living to landscape designer's own manageably sized garden. The opportunity to enjoy as is or inject new energy.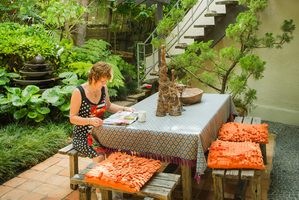 The soulful hidden sanctuary that is the Yeoman family home stemmed from a discussion about the way they wanted to live, rather than the style of house they wanted.
About 25 years ago, owners Glenys and Rodger Yeoman asked architect John Lewis to design their home for land subdivided off what was then Glenys' brother's property.
Glenys recalls, "John's very interested in how people live in their homes and that was his first briefing. It's not about what style of house you want or what you want it to look like.
"We said we'd lived in Thailand and we'd loved the way we'd had doors opening out. We're quite casual people, we love entertaining and we wanted our home to be pretty grunty and not too precious."
They were gobsmacked by how well the layout suited their family of five's style of relaxed indoor-outdoor living.
The Grammar-zoned address is down a right-of-way within a kilometre of Mt Eden Village. People can initially underestimate the home's spaciousness, as it is spread over three levels.
The living hub is mid-floor but entry level has its merits, starting with softly coloured glass accentuating the front entrance. The internal-access double garage (plus off-street spot) includes storage and workshop area. The sizeable "multi-purpose room" invites extra living, a fifth bedroom or a roomy additional office. Recycled copper accents this level's bathroom and there is a laundry chute.
The mid-level celebrates private indoor-outdoor living. A lounge with dining area, extra-wide open fire and oodles of character opens to an all-weather courtyard. Landscape designer Glenys created its subtly exotic garden.
Many parts of this home meld ingenuity, family lore and charm. A potter friend made terracotta tiles for this courtyard and elsewhere, in return for being bought a kiln. The home's interior cladding showcases painted Triboard, (strong, load-bearing panels of strand-board sandwiched between MDF) still manufactured today but originally developed by Glenys' late father with input from civil engineer Rodger.
A local craftsman made tawa cabinetry for the open-plan kitchen-dining-family room. This character-filled central kitchen is functional, charming and well-loved, so it could continue as it is, have a minor upgrade, or be revamped into something more modern (and possibly run-of-the-mill).
A glass-sheathed dining area and two compact studies lead off this family area. Rodger's favourite spot is a hearty outdoor room complete with outdoor TV and fireplace, which is fuelled by his epic wood-pile. He cooks legendary lamb-on-a-spit here.
Towering palms soar above a goldfish pond in a lush garden. "We're so sheltered we have to look at trees up on the horizon to see what the wind's doing," says Rodger.
There are decks at both ends of the top level of the home, which is built of solid plaster over polystyrene with timber joinery and a concrete tile roof. A master bedroom with dressing room has en suite access to one of this floor's two bathrooms. There are three further bedrooms, a sliding door uniting two of them if children wish.
The owners are buying one of two other Lewis-designed homes in Aberfoyle St.
Following their build, Glenys' brother and sister-in-law commissioned Lewis, and beloved Uncle Roger and Aunt Alison used him a second time. Uncle Roger was "an artist who made lighting". He and Alison owned Coverley Lighting and a Lewis-designed holiday home that began this family's love affair with his work.
Uncle and Aunt both passed away last year. The Yeomans are buying their property to develop a new garden and honour Uncle Roger's creativity.