Homeowners are making the most of climbing city values and buying up affordable beachfront properties Alanah Eriksen property.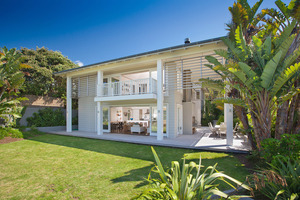 This $2.8 million purchase in Mangawhai by Aucklanders set a record price for the region.
The Auckland housing boom is having a ripple effect on Northland's coastal property market, real estate experts say.
The demand for homes in holiday spots has grown as buyers foresee skyrocketing Auckland prices filtering out to beach towns.
Other city-dwellers are cashing in on the heightened sales of their homes, packing up and buying their dream beachfront home.
Bayleys real estate agent Esmae Farrington, who specialises in selling waterfront properties in Paihia, said in the past three years 65 per cent of her sales had been to overseas buyers looking to emigrate or wanting a bach, or Kiwi ex-pats.
But over the past few months, 55 per cent of her sales were to Aucklanders who expected prices to keep rising.
"Inquiry has definitely picked up," Ms Farrington said.
"There's no doubt that there are more Aucklanders. And people further down the North Island are looking for opportunities to get into waterfront, before the market has an upwards turn. They want some good buying now."
The new buyers were a mix of people either looking for holiday homes, or looking to relocate. Some Auckland buyers had been retiring early and moving up north, Mrs Farrington said.
Real Estate Institute of New Zealand figures show Northland property prices were 6.3 per cent higher last month than in December the year before, going from $289,000 to $307,250.
And 155 homes were sold in the region last month compared with 113 the same month the year before, a 37.1 per cent rise.
A $2.8 million home sold to Aucklanders in Mangawhai last year was a record price for the region. The four-bedroom, two-bathroom home on a 794sq m section is on the beachfront of Wintle St, Mangawhai.
Mark Macky, executive director of Bayleys in Northland, said the area's coastal sales were in stark contrast to the residential market of Whangarei.
"We have more inquiry and deals happening at present for this time of the year than any of the last five years.
"We are getting interest for holiday homes in all price brackets. People who own property in Auckland now have greater equity and borrowing capacity because of the improving market - and if they have sold their Auckland home, they all of a sudden have much greater buying power up here.
"We're actually getting a lot of interest from buyers who sold their northern boltholes during the recession - now the purse strings are loosening, and they are coming back to the beautiful beaches and communities they always loved."
REINZ chief executive Helen O'Sullivan added: "You sell what used to be an $800,000 property in Epsom, and take the extra $200,000 that you come out with and buy something quite nice, somewhere near the beach.
"It's still the Kiwi dream, isn't it?"