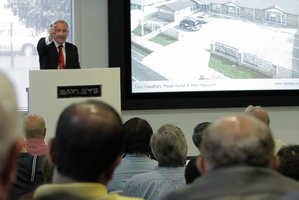 Auckland is leading New Zealand's commercial and industrial property market recovery, with demand from a broadening base of buyers outstripping supply, says John Church, general manager of commercial and industrial for Bayleys Real Estate.
Writing in Bayleys' latest Greater Auckland magazine, containing the agency's first commercial and industrial portfolio for the year, Church says demand is most noticeable for lower-value properties where investor competition is intense, but activity has also picked up at the larger transaction end of the market.
Good-quality properties over $10 million are also finding ready local and offshore buyers, he says.
"Another feature of the Auckland commercial and industrial property market in recent months has been its broadening base of buyers. During the initial stages of the market's recovery, the investment focus was very much on low-risk, well-located and tenanted passive investment properties, and purchasers were willing to accept yields of between 5 per cent and 7 per cent to secure these.
"More recently we have witnessed a return to the market of less risk-averse investors focused more on the added-value opportunities a property might provide," says Church.
"Now that the substantial correction in land prices has run its course and values are moving up again, we are also witnessing the re-emergence of cashed up 'land bankers' looking for strategically located sites with future development potential.
"This spreading of buyer interest is largely an Auckland phenomenon, and is not being replicated to the same extent in other parts of the country simply because they do not offer the sort of growth opportunities that New Zealand's largest city does.
"Auckland is leading New Zealand's economic recovery and, while that recovery has been a slow and hesitant one, the city's sheer weight of numbers cannot be ignored," he says.
The city's present population of about 1.5 million is forecast to expand by more than 20,000 people a year over the next 30 years. "That creates opportunities for investors as the demand for property needed to cater for this substantial population increase outstrips supply.
"That is why investors are attracted to the Auckland property market: it is simply because it offers the best prospects for land, building and rental-value increases," says Church.
Auctions are likely to continue to be a popular method of selling and buying commercial property, he says, with Bayleys' Greater Auckland and Total Property portfolio auctions generating strong bidding competition and high clearance rates last year.
At the last national Total Property auctions in December, 27 properties were sold at a combined value of close to $30 million.
"Sixteen of those sales were concluded at auction in Auckland, which underlines the dominance that the city has in the property investment market," says Church.
"We have been able to secure 16 properties for auction for our first Greater Auckland auction for the year, which will be held on March 6.
"This will provide a good kick-start to the market for 2013, and with signs of confidence continuing to build in the Auckland region we are expecting plenty of interest in these and other offerings in the portfolio."
Bayleys is also sourcing properties for its first national Total Property portfolio for the year, which closes off on February 22 and will be released to the market on March 8.