4 ELIZABETH ST, FREEMANS BAY
ADDRESS
SIZE:
Land 789sq m, house 312sq m.
PRICE INDICATION:
Similar properties have sold in excess of $2 million. Auction February 16 (unless sold prior).
INSPECT:
Sun 12-12.45pm; Wed 6-6.30pm.
SCHOOL ZONES:
Freemans Bay Primary, Ponsonby Intermediate, Auckland Girls' Grammar, Western Springs College.
CONTACT:
Fiona Mackenzie, Kellands, ph 021 968 880.
FEATURES:
Elegant reinvented villa designed for entertainment, with chef's kitchen, two living rooms, outdoor entertaining spaces and luxurious bathrooms.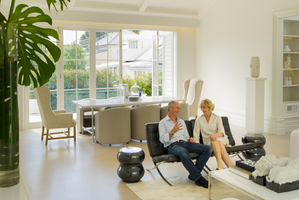 Not surprisingly, when the creators of Mollies hotel took on their next project, it was every bit as gorgeous as their award-winning luxury boutique hotel. Travel media raved about Frances Wilson Fitzpatrick and Stephen Fitzpatrick's tasteful attention to detail and Mollies' guests relished the indulgent experience.
Frances says they wanted "a keeper home" after selling Mollies. They were drawn to the gracious scale and elegant square bay windows of a neglected Freemans Bay villa.
"It's all about the proportion and the detail," says Frances, whose talented design eye complements her well-trained ear as an opera coach.
Neighbours claim the 19th-century villa was transported from Epsom in the 1970s. Its stately proportions had to be recovered from a maze of rental rooms. The elegant details returned during a meticulous rebuild.
Decades of living in London and New York shaped the couple's thinking.
"We built to please ourselves," says Frances. They refined plans architect Jan Bernau had prepared for former owners.
Proportion again.
"We dug into the roofline to create the living room's vaulted ceiling," explains Frances. "Doors are over-sized for a villa scale."
The visitor's experience is choreographed from the charming street-side lychgate through the grand parquet-floored central hallway to the soaring living area.
Frances laughingly accuses Stephen of "obsessive use of moulding", but deep beaded baseboards recreate Victorian elegance and disguise heating vents and power sockets. Coved ceilings and back-lit shelves transform storage.
"It creates a sense of mystery," says Frances.
Tall French doors on either side of the living room anchor the vast vaulted ceiling. Off the hallway, twin rooms with tall square bays and sculptural floral lightshades nestle behind matching French doors. One has a view of the Sky Tower and room for a grand piano. The other soaks up afternoon sun, with a marble fireplace and wall of panelled built-ins creating a cosy den.
As a serious cook, Stephen's domain was the kitchen, classic to match the villa.
Sliding pocket doors close off an oasis of marble counters and carefully designed storage. An Ilve range is set into a stainless steel nook.
"Our friend Patrick Steel suggested the quilted stainless-steel splashback," he says. Duplicate appliances and sinks, multiple workspaces, and more French doors to the deck make it an entertainer's dream.
"The next owners had better like wine," says Stephen, pointing out the wine fridge and racks.
A chrome chandelier in the master bedroom's cathedral ceiling suggests mid-century glamour. A Hollywood movie star would love the bleached fittings in the walk-in wardrobe and the serene oval tub and vanities in the marble bathroom.
No detail was overlooked in the other three bathrooms either. Custom-designed stainless steel and marble vanities are set in more cool marble tiles. Two spacious bedrooms enjoy en-suites, one with French doors to the deck, the other with another gracious square bay. A light-filled upstairs room can use the powder room with its dramatic black textured walls. A laundry is cleverly tucked into a hallway, discreet internal access to the huge garage.
Oversized French doors open on to a modern north-facing deck, flowing on to a pocket lawn that awaits a potager garden. On the other side of the living room, a French-flavoured pebbled courtyard enjoys the last of the evening sunshine.
Frances and Stephen have pictured every luxurious moment in their new house, but more projects, at home and abroad, are calling.
Now, lucky new owners can enjoy the fabulous Mollies experience without leaving home.