30-40 TAIRERE RD, TI POINT
SIZE:
Land approximately 19.84ha (in two titles), house approximately 335sq m, cottage 65sq m, converted barn 120sq m.
PRICE INDICATION:
Interest expected above $4.5 million. International tender closes Wednesday, March 6.
INSPECT:
Phone for appointment.
SCHOOL ZONES:
Leigh School, Mahurangi College.
CONTACT:
Shane Romani, Sothebys International, ph 021 889 906 or 360 7771.
FEATURES:
Coastal property in two titles with remarkable views from architecturally designed three-bedroom home and two other dwellings, plus vineyard which has produced award- winning red wines. Ongoing management/ operation of the vineyard is an option. With access to Tramcar Bay, 10 fenced paddocks for stock and further equestrian facilities.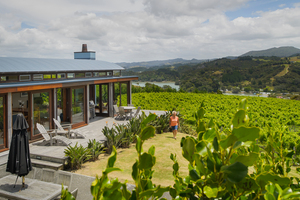 This premium coastal property with its own vineyard, dazzling views and waterfront access, has been the stuff of dreams for generations of Haslam women.
"This property has been the realisation of two dreams - my 'horsey' dream and my daughter's dream to have her own vineyard," says Jan Haslam.
Jan bought the 19.84ha of largely bare coastal land in 1990 for grazing for her horses, using waterfront access to ride them around Whangateau Harbour at low tide. She added an architecturally designed home, where she's offered boutique accommodation, a cottage for her 86-year-old mother Eileen, a converted barn, stables and implement shed, and landscaping.
"It's so private here and I've got views from everywhere," she says.
Jan's husband, Alex Rollinson, shares the tranquillity when he's not driving South Island tour buses nine months a year.
Around 1990 one of Jan's two daughters, winemaker Tracy Haslam, returned from overseas confident the property's conditions suited red grapes. Now 4ha is planted in premium grafted French clones: 75 per cent merlot, 15 per cent cabernet franc and 10 per cent syrah.
Producing about 32 tonnes annually, the vintage generates around 2300 cases. The family will keep the Ti Point label and brand (some of it now comes from grapes grown elsewhere), but leave the vines, which have produced award-winning wines. New owners can purchase the vineyard machinery and have the vineyard managed and operated for them.
The property is an hour's drive from Auckland city, handy to Matakana, Leigh and Omaha. A driveway takes visitors past two ponds and equestrian facilities to reach the main home and cottage on a rise, capturing coastal and vineyard views.
Jan asked architect Richard Naish of RTA Studio for a quintessentially Kiwi ambience and the ability to section off some space for boutique accommodation, if needed.
The first of the home's two adjoining shapes is a corrugated ColorSteel and glass section, where Jan has stayed when she's had guests.
The second is a stylish stretch of cedar and glass, remarkable for its jaw-dropping wraparound views and for referencing a local landmark. The curvaceous roof and curved timber ceiling is reminiscent of the old tram cars used as baches, which gave the closest bay its name. It opens up, pavilion-style, embracing wraparound decks and vistas taking in Tramcar Bay, the north-facing vines, the countryside and Omaha.
"Everyone who comes here says it's hard to do it justice in words," says Jan.
The sunny, open-plan living, dining and kitchen space's floor is long-stored King Country rimu Jan milled specially. Old piles from Princes Wharf accent the interior and exterior.
The muted colours of Omaha on an overcast day inspired the kitchen's blue-grey cabinetry. In winter its wood-burning wetback stove is used both for cooking and heating water, warming radiator-style heaters in the two premium bedrooms and office. Both bedrooms have great views. One has an en suite bathroom and the other is next to a sleek, separate bathroom.
The rest of the home has an open-plan bedroom-living area with walk-in wardrobe, en suite and kitchenette. There's an additional bathroom off the lower level's over-sized double garage, with double carport alongside.
The nearby clay-brick cottage where Eileen lives features a lovely outlook, covered veranda, open-plan kitchen-living-dining, bathroom, walk-in wardrobe and one bedroom. Relatives live in the converted timber barn set slightly to the east, where Jan used to live. It has two big, versatile rooms incorporating a kitchen and sleeping areas, a mezzanine, bathroom and parking for two cars.
Grounds include 2ha of native trees, an orchard, bore water, 10 fenced paddocks for stock and extra equestrian facilities. The family keeps kayaks down their western track, which offers water access to Tramcar Bay.
Tracy and her young family are Hawkes Bay-based, where husband David Mason is director of Sacred Hill Wines. The family is selling as Jan and her husband plan a lifestyle change which will include her travelling more to trek with her horses.