Opportunity to get in on the action as 11 floors of quality office space come up for lease in the heart of Auckland.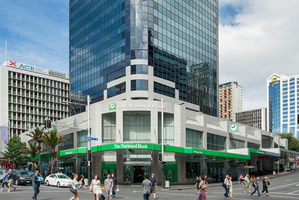 The move of ANZ National Bank staff to the refurbished ANZ Centre in Albert St by mid-year will free about 6430sq m of office space for lease on 11 floors in the National Bank Tower at 205 Queen St.
Levels four, five, six, eight, nine and 12 to 17 of the 17-level National Bank Tower will be vacated, giving a chance to lease office space that has not been available since the building was completed in 1990.
Bayleys Real Estate's general manager of commercial and industrial, John Church, says the vacated space gives one of the last opportunities to secure a significant number of contiguous floors in a high-quality central city office tower, given the long lead in time involved in constructing new office buildings.
"There are still single floors of premium and A grade space scattered around various buildings in the CBD," he said.
"However, with vacancy rates continuing to contract and little new development occurring, it has become increasingly difficult to find large amounts of quality space on adjoining multiple floors in one building.
"The beauty of 205 Queen St is that it caters to smaller occupiers as well as larger tenants needing contiguous floor space."
The former National Bank Tower is next to the DLA Phillips Fox Tower, and both are accessed through one retail podium providing an all-weather retail plaza.
The complex was built in 1990 and occupies the entire block boarded by Queen, Victoria, Darby and Elliot Sts.
The property has been substantially upgraded in recent years and Church says the office towers have been refurbished to a high standard and have a five Green Star design rating.
Church says the property is also likely to be one of the last of this calibre on which leasing incentives are offered.
"The landlord, Kiwi Income Property Trust, offers generous cash inducements."
Church says a tax change taking effect on April 1 means any inducements received by tenants who enter into lease agreements before March 31 will not be treated as income and therefore not be taxable.
He says leasing incentives have reduced significantly over the past six to 12 months and he expects them to "all but disappear for better quality premises by the end of this year".
Bayleys Auckland's Bill Fenton, who is marketing 205 Queen St with Andre Siegert, says floor sizes average around 585sq m, and floors can be linked with an innovative method that Kiwi Income Property Trust has developed using existing common area stairs.
"The effect for tenants is exactly the same as having their own secure internal staircase between floors without the cost and loss of floor area," he says.
"The floors are also column-free, which increases the cost efficiency of the office space significantly, and are designed to accommodate one person per 10 sq m."
Kiwi Property Management commercial asset manager Lauren Riley says the building's double-glazed windows reduce energy consumption as well as providing good sound proofing from exterior noise.
Refurbished levels include energy-efficient lighting, low VoC (volatile organic compound) carpets and paints and high-performance ceiling tiles.
Riley says another of the building's features is the healthy working environment provided by its variable air volume air conditioning system. When appropriate, this supplies 100 per cent fresh air at the right temperature, as opposed to recycling air.
She says the system's 18 zones for each floor give considerable flexibility to adjust the air conditioning to suit different work areas and employee requirements.
The building has been independently assessed for seismic performance, and scored 133 per cent of New Building Standard.
Other features include secure underground car parking for more than 100 cars, showers, lockers and bike racks, building management and catering services, a women's gymnasium and a cafe in the lobby.
Bayleys' Andre Siegert says the National Bank building's prominent corner position on Queen St's busiest intersections opens up strong branding opportunities for tenants, with naming and signage rights available.
Recent council upgrades to Elliott St and Darby St to make them more pedestrian-friendly have further enhanced the building's location, says Siegert.
"The area is quickly evolving with numerous lunchtime eateries and outdoor dining.
"The Mid City location is also home to the Auckland Art Gallery, Library, Auckland Town Hall, Aotea Centre and Civic Theatre and is also close to the Sky Tower and Sky City Convention Centre."
The location is also earmarked to house one of the city's proposed underground rail links.