HeraldHomes real estate editor Penny Lewis takes a look back at some of her favourite listings of last year.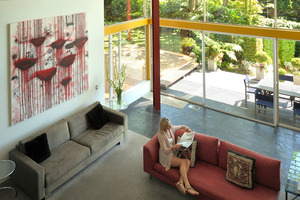 This Parnell house's discreet exterior reveals a surprising interior.
The 1980s meant mixed fortunes for architecture in Auckland. On the downside, historic buildings were demolished in the dead of night. On the upside were some iconic buildings, such as this house, designed in 1984 by David Mitchell for art patrons and philanthropists Alan and Jenny Gibbs.
The Gibbs house won a New Zealand Institute of Architects national award in 1986 and is recognised as one of the most architecturally significant buildings of its era. It has appeared in numerous books and magazines.
The layout of the house has the main living areas and bedrooms in a northern two-storey section, linked by a conservatory to two-level, self-contained accommodation with its own access.
David says the house "is not spectacular from the street. We tried to make it quiet to approach and a surprise to enter".
Today, David says he feels "fine about the house - it's good, to be frank". He notes in particular its "big, lofty living room with the silver ceiling and the way the light reflects around the room".
When current owners Michael and Jane bought the house they commissioned David to design a new kitchen (this time, with timber), and replace the original sideboards and other storage that previous owners had removed.
What hasn't changed is the appeal of the home's duality, 28 years after it was built. The solidity of its construction - filled concrete block walls, slate-topped concrete floors and marble and stone finishes - is contrasted with a lightness of touch and generous sense of space, with invisible steel frames supporting significant spans. Outside on the terrace, a highly visible steel beam supports a void.
Despite this home's enduring role as art, it functions as a place to live comfortably. There is a further bedroom upstairs in this part of the house, which opens onto a balcony and the reflection pool.
The linking conservatory dining room is great for dinner parties or winter breakfasts, with French doors that open to an expanse of lawn and an English-style garden.
Other parts of the large garden include subtropical plants, mature puriri and pohutukawa. There is a swimming pool and spa to enjoy, plus a gym and a sauna.
1 Judges Bay Rd, Parnell
Size: Land 1300sq m, house approx 473sq m.
Price: Listed at $7.5 million but since withdrawn from sale.
Schools: Parnell District School, Auckland Grammar and Epsom Girls' Grammar.
Features: Renowned house designed by architect David Mitchell. Recipient of NZIA national award. Concrete construction, with self-contained accommodation and expansive gardens, pool and spa. Private and secure.