2B/220 VICTORIA ST WEST FREEMANS BAY
SIZE:
90sq m freehold apartment. Live-in managers and in-house pool complex and gym.
PRICE INDICATION:
$455,000. Body corporate $6215.95 pa, less discount of $624.25 if paid by due dates.
CONTACT:
Carla Pedersen, Ray White, ph 021 417 139.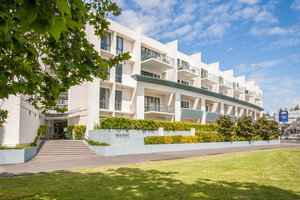 Lachie and Deidre Shea had often thought the Beaumont apartment building looked attractive when they saw it from the Victoria Park flyover.
Perhaps it was always meant to be that they would buy here when they started looking for an apartment, partly as an investment, but also with the option of living in it.
"We had a dollar each way," says Lachie. "We were looking for a bit bigger apartment in an attractive building, but not a 24sq m one- or two-bedroom unit.
"We wanted somewhere we would be happy to live ourselves.
"It is freehold and the location was a key factor, too, close to the Viaduct and Wynyard Quarter, and it can only get better when the Tank Farm goes ahead. And you have Victoria Park across the road."
The Sheas have found it easy to attract good, long-term tenants, with the present weekly rental at $470.
"Our current tenant has been here four and a half years. Because the apartment is unfurnished, it tends to attract people who want to stay longer."
Also, having two carparks is a bonus. "It is unusual, and the good thing is that one carpark is in the basement garage and the other is by the back door under cover, which is handy if you are coming and going."
The Leuschke Group-designed block of 39 apartments was built in 1997. The Sheas' second-level apartment looks out to tree-lined Franklin Rd, and its balcony is a morning sun-trap.
The layout has the living area as you enter and a full-sized kitchen with parquet flooring to the right. On the left are the bathroom, with bath and shower, and the large bedroom. Both the bedroom and the living area open to the balcony.
"Every room has good dimensions," says Lachie. He also likes the building's entrance.
"This elegant and light foyer gives you the feeling you are in a nice building and it's not designed to squeeze in every last square inch. It makes the building a bit special."
Now the Sheas' family is living overseas and they want to try living in the South Island, so they have decided to sell the apartment.
"Our plan was to eventually move into the apartment, sell the family home and buy a house in Central Otago," explains Lachie.
" Now we have decided to tip that plan up the other way - keep the family home and invest in a bach or apartment down south."