10 PARRY COURT, OMAHA
SIZE:
Land approx 612sq m, house 329sq m.
PRICE INDICATION:
CV $2.75 million. Sale by negotiation.
INSPECT:
Sat/Sun 2-2.45pm or call to view.
SCHOOL ZONES:
Matakana School, Mahurangi College.
CONTACT:
Eden Thomson, ph 021 790 552, and Paul Elsden, ph 021 936 011, Bayleys.
FEATURES:
Three-storey contemporary home enjoying 180-degree views from its Omaha North beachfront position. Being sold fully furnished, it includes two distinct entertaining areas, an uppermost master suite with a private deck and substantial decks with outdoor fire.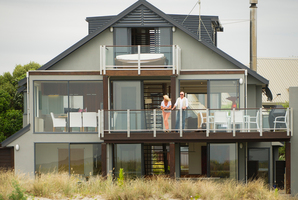 The "cherry on top" for two brothers who sold a commercial property has been the bonus of sharing the 180-degree views from this luxurious beachfront home with family and friends.
When Patrick Draper and brother Digby marketed an Auckland office building they owned for sale earlier this year, one of the real estate "swaps" they were offered was this Omaha North shore-front contemporary home. Patrick recalls checking it out.
"We came up here and we loved it. We got quite excited. As soon as you step inside you can see it's got fantastic views and the whole place has been done beautifully. It came fully furnished - we're selling it that way, too - so you could just start enjoying it straight away."
And so the Draper brothers bought here, always intending to on-sell, but mindful of being able to enjoy it as a holiday home in the meantime.
Patrick understands Omaha beachfront properties were only allowed to be built over three levels for a short time before regulations changed - meaning this is one of a handful of three-storey homes along the shore.
"It's fantastic because it means there really is space for everyone and you get elevated views."
The home is more sheltered than some, being set slightly back from the ocean, but still so close you can hear the waves breaking. This means its panoramic outlook is underlined by a strip of sand dunes, emphasising the beauty of the beach.
A timber walkway just steps from their garage, traverses the dunes, making it easy to take gear down to the water. Timber battens adorn the street-side end of the plaster home, which has a level lawn for Patrick's chocolate labrador Bruno to cavort, two big water tanks and an internal-access double garage.
The sea views entice as soon as you enter the timber-floored entry corridor with floating timber staircase. The entry level's large secondary living-dining space with bar-kitchenette opens to a covered barbecue area with outdoor fireplace.
Extras here include a Bose sound system, plasma TV, pool table, wine fridge and dishwasher. Two double bedrooms, a bathroom, laundry and storage room make this level essentially self-contained.
Floor-to-ceiling glass celebrates the elevated views from the mid-floor's main entertaining hub where a chef's kitchen, dining area and living space are embraced by decks front and back.
"It's great having the option of the east-facing deck as you've always got a sheltered option and it makes the most of the last of the day's sun."
This level also holds a third bedroom and second bathroom and is outfitted with air-conditioning, another Bose system, plasma TV and wood-burning fire.
The master suite with private deck is uppermost, featuring a shuttered partial wall and side windows, an en suite and walk-in wardrobe.
"This bedroom is probably one of the highest spots in Omaha. It's beautiful waking up here with the sun."
Patrick's partner Susie also has a property up here and she's thoroughly impressed by how accessible Omaha is from Auckland.
"You can drive up here within an hour and because it's so close it's easy to ring up friends in Auckland and say, 'Why don't you head up here for dinner and stay the night?"'
Patrick says he's pencilled in invitations for extended family to enjoy Christmas Day here if the property hasn't changed ownership by then. But he can appreciate new owners might want to be in for Christmas and he's prepared for that.
"We've made sure we've already had some big nights up here," he says contentedly.