167 KOHIMARAMA RD, KOHIMARAMA
SIZE:
Land 1012sq m, house 526sq m.
PRICE INDICATION:
Similar properties in the area have sold between $2 and $3 million.
INSPECT:
Sat/Sun 4-4.30pm.
SCHOOL ZONES:
Kohimarama School, Selwyn College.
CONTACT:
Megan Jaffe, ph 021 611 461 or Steen Nielsen, ph 0275 578 336, Ray White Remuera.
FEATURES:
Kerry Avery-designed five-bedroom residence set on landscaped grounds, with panoramic harbour views. Option to create a self-contained two-bedroom apartment.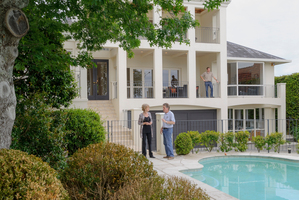 Carolyn and Greg Snell couldn't even see the view when they first visited their Kohimarama house. "It was a hideous wet day, but the house just took us in." They say it reminded them of Melbourne houses they'd lived in, with its classical lines and high-quality materials. The amazing harbour view was a pleasant bonus when they went back on a fine day, especially as they've always gravitated to water and sea views.
They also ditched their plans to downsize when they fell for the gracious Kerry Avery-designed house, and its flexible spaces on three floors.
"It's been musical bedrooms with three teenage kids growing up and out," says Greg, "and we've both run businesses out of here at different times, too."
The pitched slate roof is a remnant of the original solid 1940s house which, in the 1980s, morphed into a generous contemporary home, anchored by a columned front portico. Overlooking the classically landscaped pool and gazebo, the spacious porch is the focal point for family and friends.
"We live out here in the summer," says Carolyn, "coffee in the morning, dinner in the evening."
Son Nathan notes that friends still invite themselves over for a barbie and swim, even though he and his sisters have outgrown teenage parties in the tiled four-car garage below.
Inside, Carolyn enthuses about the "slightly European feel", evident in the Italian marble floors, sparkling chandeliers and detailed timber doors and cornices. The family made good use of every space on the main level, with the formal living room and dining room opening to the porch. Both rooms share a cosy gas fireplace, although the whole house has central heating and air conditioning.
The tiled north-facing conservatory is a sunny winter vantage point for the view, opening on to another sheltered westerly terrace. The couple's big move was to open up the second living area to the kitchen, with a massive new window capturing sunlight and views. "It was so dark before," says Carolyn. "Now I can gaze at the harbour while I'm cooking." She also installed a wine fridge and bar in the family dining area, and the refinished kitchen cabinets hide tons of storage. The adjacent laundry conceals more storage and functions as a butler's pantry during parties.
The family has enjoyed watching ships on the harbour, but when fireworks start, they race upstairs to the master bedroom's terrace. The generous master suite has a fireplace and a covered porch overlooking the pool. "With three teenagers downstairs, I could sneak up here with a magazine," says Caroline. The marble bathroom and two walk-in wardrobes complete their luxury adult retreat.
When the kids were home, the ground level was their domain. A bright living space at the bottom of the stairs has been a gym (with its own sauna), media room or office. Another two generous bedrooms have also been offices or guest rooms. French doors on to the driveway, a kitchenette and bathroom make the space self-contained for a business, granny or teenager.
Back on the main level, another two spacious bedrooms have also delivered lots of options as the family's needs changed. The sunny front room, with built-in cabinets has been a library, media room, bedroom and now Greg's office. A chandelier in the guest room reflects the one in the elegant marble bathroom next door.
The gracious adaptable house suited this stage of their family's life, but this time Greg and Carolyn are determined to downsize - they hope with views like the ones that captivated them here.