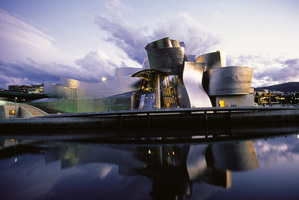 Northern Spain, Sydney and the west coast of the United States could inspire Auckland's development, according to civic leaders and building industry chiefs.
They were asked to pick their favourite places at last week's Project Auckland lunch and were introduced by APN News & Media's Todd McLeay as people who could stimulate debate about the city's future.
Auckland Council's chief planning officer, Roger Blakeley, spoke of his love for Spain's Guggenheim at Bilbao, designed by Canadian-born architect Frank Gehry, and he referred to the "Guggenheim effect", saying Bilbao had been transformed by the development of a single building.
A building like that would be "absolutely stunning" for Auckland's Wynyard Quarter because an iconic building was proposed for that precinct, he said.
Brett O'Reilly, chief executive of Auckland Tourism Events and Economic Development, spoke highly of Boston's Kendall Square, and said he too admired Frank Gehry.
Matthew Cockram, Cooper and Company chief executive, praised Portland in the US, saying it "was about the green" and his company's Britomart restoration and revitalisation in Auckland sought to bring aspects of that here.
Kim Campbell, Employers and Manufacturers Association chief executive, spoke of Sydney's vision when its Opera House was created and the vision and drive which saw that difficult project to fruition.
Dean Kimpton, Aecom managing director, picked London because it was a city which worked, he said, from a transport and IT stance which he referred to as "connectivity". Transport was Auckland's most challenging issue and he praised London's underground in particular.
Waterfront Auckland chief executive John Dalzell spoke of his passion for Vancouver, particularly its waterfront and beauty.