House shortage drives hunters to leaflet drops and door-knocking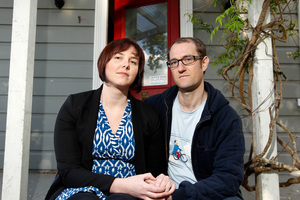 The dire shortage of houses for sale in the Auckland market has desperate buyers going door-to-door pleading with homeowners to sell.
Personal letters to property owners and cold-calls from agents have also increased in the past few months, as short supply has pushed prices up to record levels.
Real Estate Institute of New Zealand statistics show the median house price in the Auckland region reached a record $530,000 in October, up 2.9 per cent compared with September.
Prices in central Auckland shot up to $625,000 from $516,900 in October last year, and on the North Shore rose to $638,000 from $561,400.
Sales in the Auckland region increased more than 44 per cent compared with October last year.
Nationally, sales are up one-third year on year and have hit a new median record price of $380,000.
Wendy Alexander, from Barfoot and Thompson, said demand for houses in the main centres had well outstripped supply. Barfoot and Thompson sold 48.7 per cent more houses in October than the same time last year.
"Entry into every suburb is getting higher and even those with more than $600,000 to spend are finding it hard," Alexander said.
North Shore resident Tim Lynch-Blosse said being pro-active in the housing market paid off.
"We had missed out on a couple of houses at auction and thought we would try our luck knocking on the door of a house we had looked at buying earlier," Lynch-Blosse said.
"We agreed on a price with the owner and six weeks later we moved in."
If they had missed out, he had intended to knock on the doors of other properties the family liked the look of.
Since buying their Belmont house, other people had asked the family if they were interested in selling or if they knew of neighbours who would sell.
Auckland couple Kate Sutton and Oliver Mannion have taken a different approach, asking Remax agents Peter Thomas and Roshni Sami to use their names in personal letters to homeowners to try to secure their first home.
They said the situation in Auckland was so bad the Government needed to introduce a capital gains tax if there was to be any relief for buyers.
They believed taxing investment properties was the only way to make home ownership affordable for families and less attractive for investors.
The couple have been house-hunting for seven months, have looked at 150 homes and have been outbid at four auctions.
But even with a good deposit and a budget of between $600,000 and $700,000, the desperate couple are still flatting in an Onehunga property Sutton and her brother own.
"Initially house-hunting was fun, then frustrating, and now it is depressing," Mannion said. Sellers appeared happy to mislead potential buyers to take advantage of the shortage.
"We looked at one house that was advertised as three- or four-bedroom, and we get there and one room is a laundry with a single bed in it and the other is a sleepout outside.
"It was nice but a room outside is not suitable for a family."
That house, in the Auckland suburb of Penrose, went for $817,000 - $200,000 over the recent valuation.
Another property had a ladder up to a loft with a single mattress. "That was described as a third bedroom," Mannion said.
The couple said they were not being unrealistic in what they wanted and had been looking at traditionally affordable suburbs of Onehunga, Blockhouse Bay, Mangere Bridge and Avondale.
The couple had noticed price jumps in the past six months and they have had to increase their budget in the hope of securing a home.
"We are kicking ourselves we didn't buy six months ago because houses that would have gone for $650,000 are now going for $700,000," Sutton said.
Personalised letters, which used the couple's names and family details, dropped in letterboxes by real-estate agents in areas they liked, were their latest attempt to find a home.
"We are hoping that approach may work, that someone will come forward and we can finally get into a family home," Sutton said.